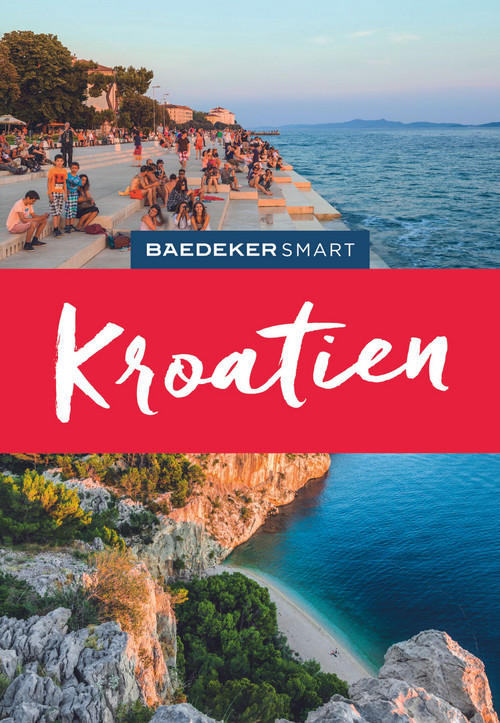 Es ist früh am Morgen. Noch ist es angenehm kühl. Sie stehen an der Reling, ein leichter Fahrtwind schlägt Ihnen entgegen, und an Ihnen zieht gemächlich eine herrliche Küstenlandschaft vorbei. Es gibt kaum etwas Schöneres als einen Tag in der Elaphitischen Inselwelt! Unser Vorschlag zum Insel-Hopping lässt sich mit dem Fährschiff von Dubrovnik aus ganz leicht verwirklichen. Neben allen klassischen Reisezielen halten wir Ideen für ganz besondere Urlaubstage für Sie bereit.
Alle wichtigen Sehenswürdigkeiten Kroatiens präsentieren wir in fünf Kapiteln. Innerhalb jedes Kapitels gliedern sich die Sehenswürdigkeiten in drei Kategorien: »TOP 10«, »Nicht verpassen!« und »Nach Lust und Laune!«. So weiß man sofort, was man unbedingt anschauen sollte. Und nach der Besichtigung? Wie wäre es mit einer »kleinen Pause«? In dem romantischen Barockstädtchen Vara#din sollten Sie im Kaffeehaus Grofica Marica am Hauptplatz die besten Cremeschnitten der Stadt probieren. Und im Naturpark Kopacki Rit lassen Sie sich im Restaurant Kormoran die Spezialität der Region schmecken: am Stock gegrillten Karpfen. Vorschläge zum Übernachten, gute Adressen für Restaurants und Cafés sowie Tipps für Events und zum Einkaufen runden jedes der fünf Kapitel ab.
Zudem haben wir Ideen für erlebnisreiche Spaziergänge und Touren zusammengestellt, und wie Sie vor Ort gut zurechtkommen, erfahren Sie im Abschnitt Praktische Informationen. Mit Atlasteil im Band und großer separater Reisekarte können Sie sich in Kroatien selbst ohne Navi nicht verfahren.

Free shipping in Switzerland*
20% discount for 3 items
* Except for bulky good deliveries (posters)
PLAN, DISCOVER, EXPERIENCE - on the web and mobile!
Download our HKF Outdoor App!
More than 1000 Web-Sites in 47 countries! Listing of important European Web-Sites supporting your planning and booking of journeys.