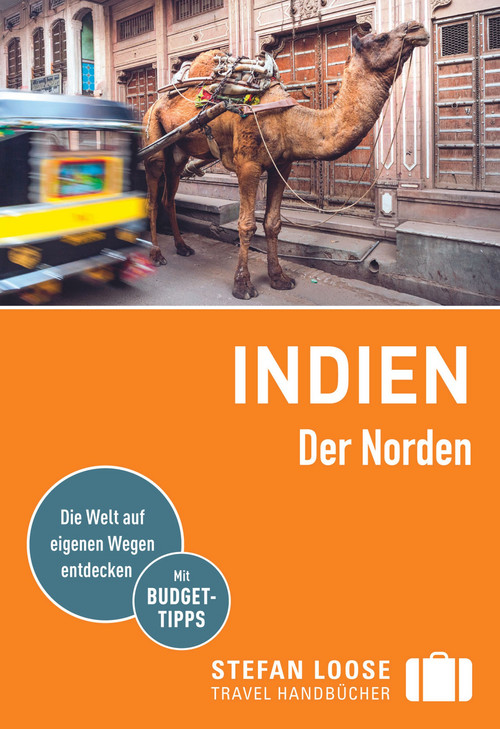 Geballte Kultur und entspannende Massagen – der Norden Indiens umfasst nicht nur das berühmte Goldene Dreieck Delhi – Agra – Jaipur, eine der beliebtesten Touristenrouten Indiens, sondern auch eine faszinierende Vielfalt an weiteren Höhepunkten: vom indischen Himalaya mit seinen herrlichen Wandermöglichkeiten über die zu Kamelritten einladende Wüste Thar bis zur Gangesebene mit einer Reihe bedeutender Pilgerstätten. Über die gesamte Region verstreut wartet eine Fülle von prachtvollen historischen und religiösen Bauwerken darauf, erkundet zu werden. Und wem nach so viel geballter Kultur der Schädel brummt, der kann sich zum Yoga in einen Ashram zurückziehen, bei einer ayurvedischen Massage entspannen oder sich in den Trubel eines bunten Volksfestes stürzen.
Das Stefan Loose Travel Handbuch "Indien – Der Norden" ist ein unschätzbarer Reisebegleiter für Individualreisende. Das Buch gibt wertvolle Tipps zur Vorbereitung auf die Reise, von der Gesundheitsvorsorge über die Anreise bis zu Adressen von Yogaschulen und Ashrams, und führt in die indische Kultur und Geschichte ein, wobei auch Themen wie Umweltprobleme und die Situation der Frauen zur Sprache kommen. Zudem liefert dieser Indien-Reiseführer detaillierte Karten, Hintergrundinformationen sowie umfangreiche Tipps zu Unterkünften, Restaurants, Einkaufsmöglichkeiten und Transportverbindungen. Das umfassende Glossar und der Hindi-Sprachführer im Anhang sind zudem hilfreiche Begleiter auf der Reise.

Free shipping in Switzerland*
20% discount for 3 items
* Except for bulky good deliveries (posters)
PLAN, DISCOVER, EXPERIENCE - on the web and mobile!
Download our HKF Outdoor App!
More than 1000 Web-Sites in 47 countries! Listing of important European Web-Sites supporting your planning and booking of journeys.