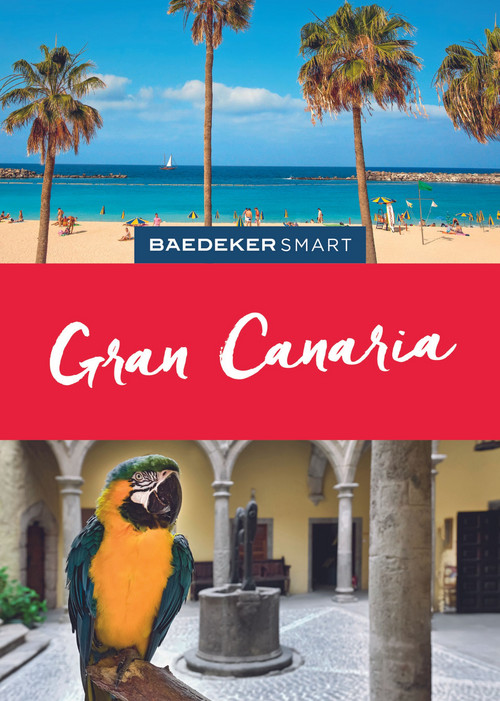 Eine schmale Landstraße führt von den Touristenzentren des Südens in die Bergwelt im Inselzentrum. Hinter jeder Kurve wartet ein neuer faszinierender Ausblick. Getoppt wird das Naturerlebnis noch bei einer kurzen Wanderung zum Roque Nublo. Später essen Sie im hübschen Bergdorf Tejeda die köstlichsten Mandelplätzchen Ihres Lebens. Besonders schön ist die Fahrt ins zentrale Bergland im Frühjahr, wenn die Mandelbäume blühen. Vielleicht steht Ihnen der Sinn aber eher nach einem Tag in den Dünen von Maspalomas? Oder haben Sie Lust auf einen Shoppingbummel in Las Palmas – oder doch lieber die kleinen Dörfer im Inselnorden entdecken? Neben allen klassischen Sehenswürdigkeiten halten wir Ideen für ganz besondere Urlaubstage für Sie bereit.
Alle wichtigen Sehenswürdigkeiten auf Gran Canaria präsentieren wir in vier Kapiteln. Innerhalb jedes Kapitels gliedern sich die Sehenswürdigkeiten in drei Kategorien: »TOP 10«, »Nicht verpassen!« und »Nach Lust und Laune!«. So weiß man sofort, was man unbedingt anschauen sollte. Und nach der Besichtigung? Wie wäre es mit einer »kleinen Pause«? Beispielsweise im Jardín Canario: Dort lernen Sie die artenreiche kanarische Flora kennen – und im Restaurant am oberen Garteneingang die feine kanarische Küche. Frisch gestärkt können Sie anschließend im angrenzenden Jardín de las Islas einheimische Pflanzenarten und im Kakteengarten Hunderte der stachligen Gewächse bestaunen. In Artenara, Gran Canarias höchstgelegenem Bergdorf, dagegen ist das Restaurant »La Cilla« der richtige Ort, um einzukehren: Auf der Terrasse genießen Sie zum hervorragenden Essen eine fantastische Aussicht auf eine wilde Gebirgslandschaft. Vorschläge zum Übernachten, gute Adressen für Restaurants und Cafés, Ideen für Sport und Freizeit sowie Tipps zum Einkaufen runden jedes der vier Kapitel ab.
Zudem haben wir Ideen für erlebnisreiche Spaziergänge und Touren zusammengestellt; und wie Sie vor Ort zurechtkommen, erfahren Sie im Abschnitt »Praktische Informationen«. Mit Atlasteil im Band und großer separater Reisekarte können Sie sich auf Gran Canaria selbst ohne Navi nicht verfahren.

Free shipping in Switzerland*
20% discount for 3 items
* Except for bulky good deliveries (posters)
PLAN, DISCOVER, EXPERIENCE - on the web and mobile!
Download our HKF Outdoor App!
More than 1000 Web-Sites in 47 countries! Listing of important European Web-Sites supporting your planning and booking of journeys.