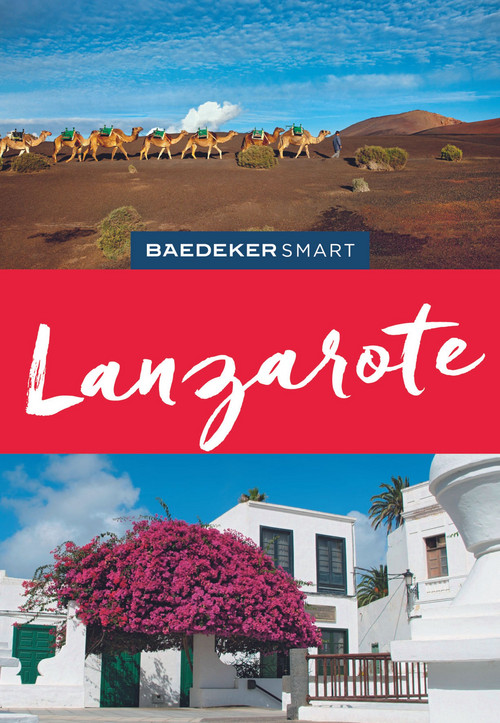 Einsam, rau und wildromantisch ist die Landschaft im und um den Parque Nacional de Timanfaya. Der Guide führt ein kleines Grüppchen souverän durch die dunkle Lavalandschaft, erklärt die unterschiedlichen Gesteinsarten und weist auf winzige Pflänzchen hin. Ein tolles Naturerlebnis! Wenn es Sie eher an den Strand zieht, folgen Sie doch unserem Vorschlag für einen Strandspaziergang nach Arrecife oder verbringen Sie einen erlebnisreichen Tag auf den Spuren von César Manrique. Neben allen klassischen Sehenswürdigkeiten halten wir Ideen für ganz besondere Urlaubstage für Sie bereit.
Alle wichtigen Sehenswürdigkeiten auf Lanzarote und der Nachbarinsel Fuerteventura präsentieren wir in vier Kapiteln. Innerhalb jedes Kapitels gliedern sich die Sehenswürdigkeiten in drei Kategorien: »TOP 10«, »Nicht verpassen!« und »Nach Lust und Laune!«. So weiß man sofort, was man unbedingt anschauen sollte. Und nach der Besichtigung? Wie wäre es mit einer »kleinen Pause«? Beispielsweise in der Inselhauptstadt Arrecife: Abseits vom Touristentrubel finden Sie am alten Fischerhafen Charco de San Ginés das Restaurant Tasca la Raspa. Probieren Sie die frischen Fischgerichte und lassen den Blick übers Wasser schweifen ... Auf der Fahrt durch das Weinbaugebiet La Geria kehren Sie am besten in der Bodega El Chupadero ein. Blicken Sie von Terrasse des gemütlichen Lokals auf die einzigartige Vulkanlandschaft der Insel und genießen dabei leckere Tapas.
Vorschläge zum Übernachten, gute Adressen für Restaurants und Bars, Ideen für Sport und Freizeit sowie Tipps zum Einkaufen runden jedes der vier Kapitel ab.
Zudem haben wir Ideen für erlebnisreiche Touren und Spaziergänge zusammengestellt, und wie Sie vor Ort zurechtkommen, erfahren Sie im Abschnitt »Praktische Informationen«. Mit Atlasteil im Band und großer separater Reisekarte können Sie sich auf Lanzarote selbst ohne Navi nicht verfahren.

Free shipping in Switzerland*
20% discount for 3 items
* Except for bulky good deliveries (posters)
PLAN, DISCOVER, EXPERIENCE - on the web and mobile!
Download our HKF Outdoor App!
More than 1000 Web-Sites in 47 countries! Listing of important European Web-Sites supporting your planning and booking of journeys.