In the Kümmerly+Frey Outdoor Map Mallorca, Palma de Mallorca, scale 1:80,000, you will find the best routes for a wide range of sports.
The map covers the most important areas of interest and their trails and recreational opportunities, from Manacor, Cala Ratjada, Port de Pollenca, Port de Soller, Valldemossa, Andrax, S'Arenal, Santanyi, Llucmajor to Cala Murada.
Thanks to clearly marked, easy-to-read, and up-to-date paths, a clean map design, a clear representation of the terrain, and the option to download the map via the HKF Outdoor App, this map is the perfect tool to make the most of your visit to this exceptional region.
The map contains all the necessary information to engage in various sports activities in your area. Not only are cycling and hiking trails clearly depicted, but information about golf courses, tennis courts, via ferratas, indoor pools, museums, playgrounds, bowling alleys, etc. will help you optimize your leisure time.
The folding map for outdoor enthusiasts is made of sturdy, largely water-resistant, and tear-resistant paper. Even in challenging weather conditions, it won't let you down.
In case the GPS doesn't work or your phone runs out of battery, the clearly marked viewpoints, train stations, places to rest, camping sites, parking lots, etc. on the map will always help you maintain your orientation.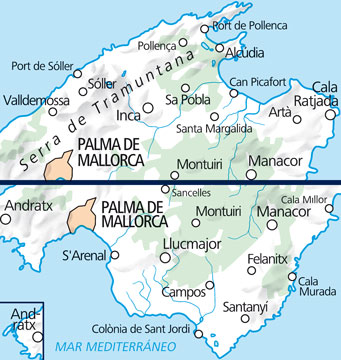 About Hallwag Kümmerly+Frey:
We, Hallwag Kümmerly+Frey, have set ourselves the goal of inspiring people to explore the world. Our road maps, city maps, hiking maps, bicycle maps, etc. impress with their up-to-date information, precise cartography, well-researched routes, and clear layout, making planning and the journey itself a success. Start your adventure well-prepared with us!

Free shipping in Switzerland*
20% discount for 3 items
* Except for bulky good deliveries (posters)
PLAN, DISCOVER, EXPERIENCE - on the web and mobile!
Download our HKF Outdoor App!
More than 1000 Web-Sites in 47 countries! Listing of important European Web-Sites supporting your planning and booking of journeys.