In the woods above the Magadino plain
Hidden in the chestnut groves above Monte Carasso, on the edge of the Magadino plain, is Curzútt (Corte di Sotto), where agriculture once lived because the banks of the Ticino were too humid. Today, there is an inn here - stone houses and dry stone walls still form popular photographic subjects. Curzútt is one of the intermediate stations of the small cable car towards Mornera.
A high point very close to the stone colony is the ancient Romanesque church of the mountain village of San Barnardo, which is now isolated. Rich frescoes with the "Nursing Mary" decorate the compact interior of the small church.
For hikers, there is a 180-metre ascent and a small descent to the next highest point, the spectacular and breathtaking Carasc suspension bridge, which overlooks the impassable valley of Sementina, above Bellinzona, 130 metres from the stream. The 270-metre long pedestrian bridge is one of the longest in Switzerland, 14 metres long, weighs about 50 tonnes and connects Curzútt San Bernardo to Via delle Vigne, the vineyard path between Sementina and Cugnasco.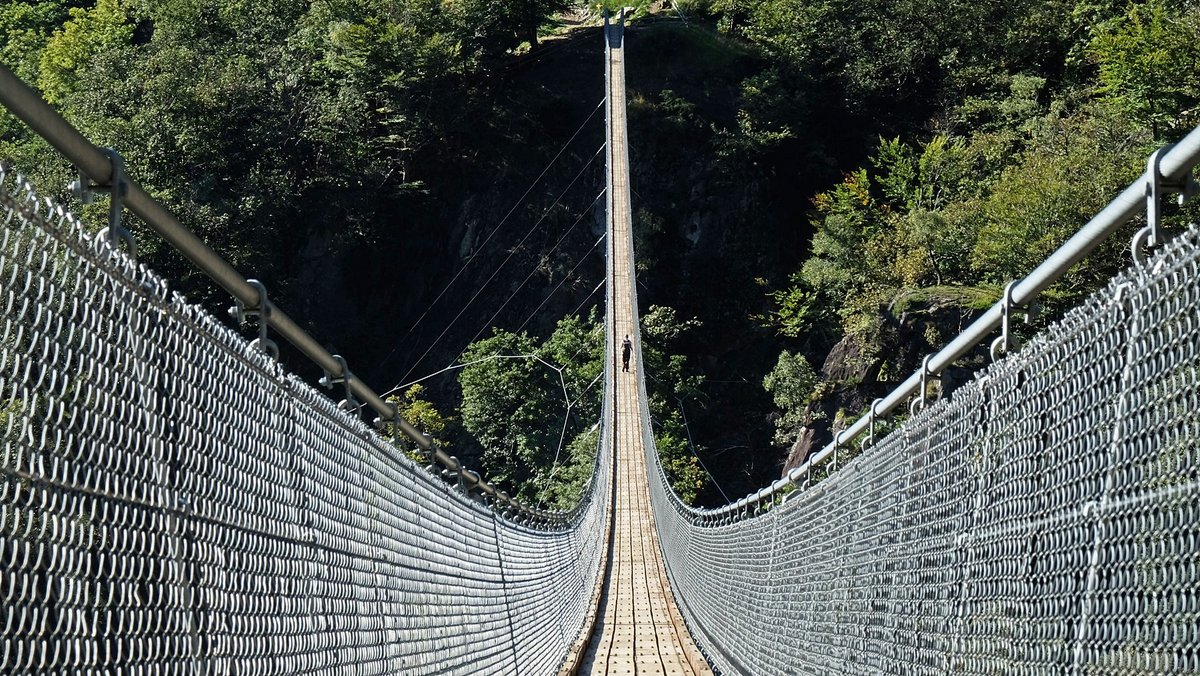 On the south side of the bridge, the path climbs again slightly, and past the San Defendente plateau with its Late Middle Ages oratory, the descent begins on the old stone path, quite steeply down towards Sementina and Monte Carasso. At the end of the itinerary, on the left, you can see the Fortini della Fame round towers, the Dufour defence line, then, at the bottom of the valley, the Madonna della Valle with its typical Ticino bell tower and, on the rocky spur, the church of Santissima Trinità with its bulky bell tower.
Arrival Monte Carasso:
Monte Carasso is just opposite Bellinzona, on the right-hand side of the Ticino. Cable car direction Mornera, intermediate station Curzùtt.
Another tip:
Monte Carasso with the former Augustinian monastery was awarded the Wakker Prize.