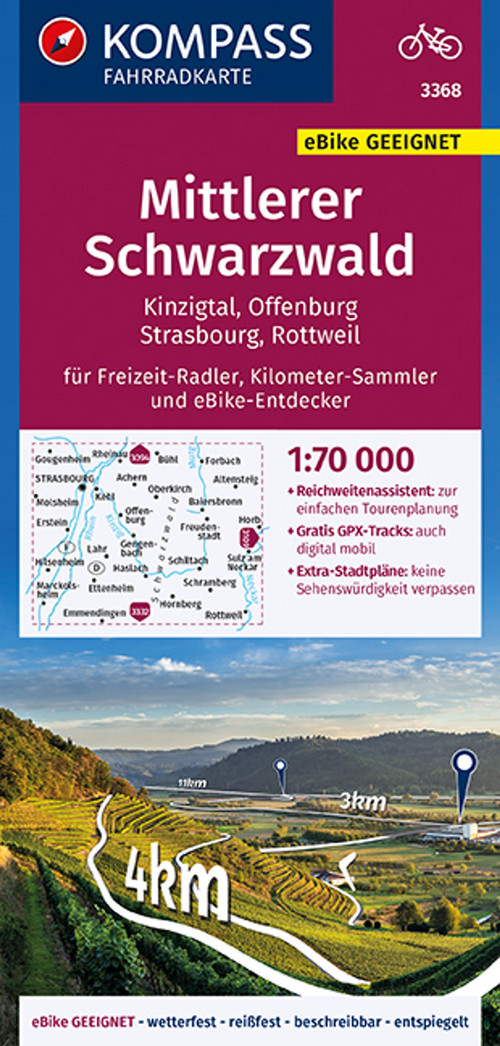 • Je nachdem, in welche Himmelsrichtung man blickt, hat man in Offenburg entweder die Rheinebene, die Vogesen oder den Schwarzwald im Blick.
• Was das heißt? Ideale Bedingungen für Radbegeisterte. Unterschiedliche Schwierigkeitsgrade und Landschaftsformen sind vom Sattel aus zu erkunden – von topographisch einfach bis sportlich anspruchsvoll. Eine ganze Reihe attraktiver Routen findet man im Kinzigtal und den Seitentälern.
Auf dem Kinzigtalradweg gelangt man in traumhaft schöner Landschaft von Offenburg nach Gengenbach. Oder wie wäre es mit einem Radausflug nach Wolfach? Hier zeigen die Glasbläser der Schwarzwald-Glashütte, wie kunstvolles Glas geblasen und geschliffen wird.
Die neue KOMPASS Fahrradkarten-Serie überzeugt durch
? übersichtliche Kartografie im Maßstab 1:70.000
? detailgenaue Infos zu Wegbeschaffenheit, Verkehrsbelastung und Steigungsverhältnissen
? Tipps zu radfreundlichen Einkehrstationen, Bahnhöfen usw…
? handliches Format, 1mal falten – passend für den Radkartenhalter
? reiß- und wetterfestes Papier ideal für jede Witterung
back to list

Free shipping in Switzerland*
20% discount for 3 items
* Except for bulky good deliveries (posters)
PLAN, DISCOVER, EXPERIENCE - on the web and mobile!
Download our HKF Outdoor App!
More than 1000 Web-Sites in 47 countries! Listing of important European Web-Sites supporting your planning and booking of journeys.