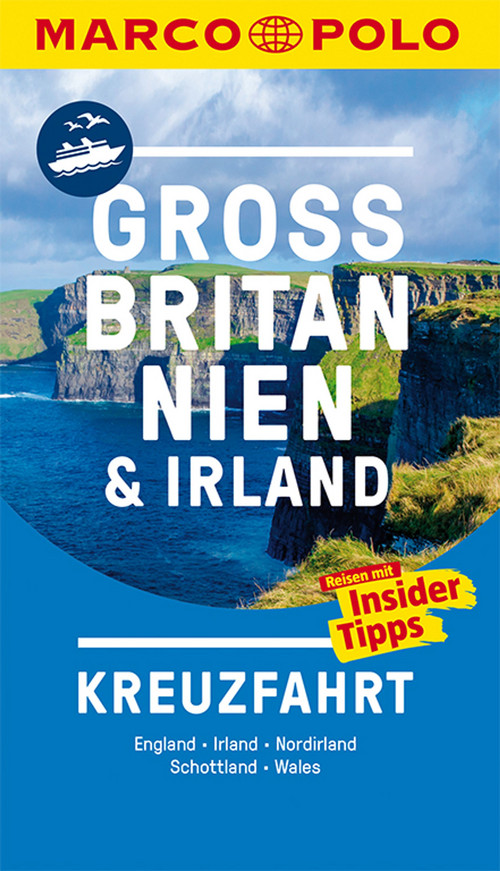 Der MARCO POLO überzeugt mit kompakten Informationen, Insider-Tipps und seiner handlichen Größe. Entdecken Sie mit MARCO POLO Kreuzfahrt Großbritannien & Irland.
Stolze Highlander und royale Vornehmheit, Rosamunde Pilcher und Harry Potter, AfternoonTea und süffiges Guinness, Miss Marple und James Bond, karge Landschaften und uralte Dörfer – die Britischen Inseln und Irland wecken zahllose Assoziationen. Finden Sie sich darin wieder oder haben Sie Ihre ureigene persönliche Vorstellung von den Insulanern nördlich des Ärmelkanals? Apropos Insulaner – die leben natürlich auf Inseln, und die können Sie ganz besonders bequem und im wahrsten Sinne des Wortes mit Ihrem Kreuzfahrtschiff umrunden und bei jedem Landgang entdecken, wie die Briten über Jahrhunderte von ihrer Insellage profitierten. Denn sie konnten sich dadurch viel Historisches bewahren – inklusive mancher (aus heutiger kontinentaleuropäischer Sicht) unüblicher Regel wie Linksverkehr oder Maßeinheiten wie Pint, Fuß oder Meile.
Der maßgeschneiderte MARCO POLO Großbritannien & Irland enthält folgende Länder und Orte für die wichtigsten Routen der Top-Kreuzfahrt-Anbieter:
England:
London, Dover, Portsmouth, Southhampton, Ilse of Portland, Plymouth, Falmouth, Ilse of Scilly, Bristol,  Liverpool, Newcastle upon Tyne,  Durham
Wales:
Fishguard, Holy Island/Holyhead
Nordirland & Irland:
Belfast, Londonderry, Dublin, Cobh/Cork, Ringaskiddy, Galway
Schottland:
Edinburgh, South Queensferry, Rosyth, Glasgow, Greenock, Fort William, Scrabster, Orkney Islands/Kirkwall, Shetland Islands/Lerwick,  Inverness/Ivergordon, Aberdeen, Dundee
Deutschland:
Hamburg, Bremerhaven
Inklusive 2 Faltkarten zum Herausnehmen.
back to list

Free shipping in Switzerland*
20% discount for 3 items
* Except for bulky good deliveries (posters)
PLAN, DISCOVER, EXPERIENCE - on the web and mobile!
Download our HKF Outdoor App!
More than 1000 Web-Sites in 47 countries! Listing of important European Web-Sites supporting your planning and booking of journeys.