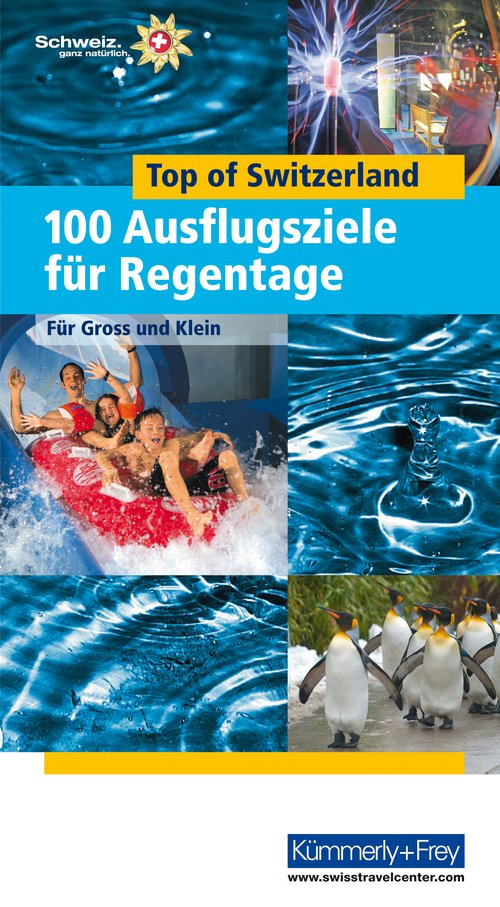 Top of Switzerland – 100 Ausflugsziele für Regentage
Für Gross und Klein
140 Seiten, Format 11,5 x 20,5 cm
Kümmerly+Frey präsentiert Ihnen die 100 besten Vorschläge, wo die Schweiz -auch wenn Regen fällt- am schönsten ist und am meisten Spass macht.
Entdecken Sie trutzige Burgen, Wellnessoasen, geheimnisvolle Höhlen, tropische Urwälder, rasante Wasserrutschen, faszinierende Naturschauspiele und vieles mehr.
Kurz und verständlich beschrieben finden Sie alles Wissenswerte knackig und lustvoll beschrieben. Tolle Bilder und übersichtliche Kartenausschnitte verleiten zu sofortigen Entdeckungen. Anreisetipps, Öffnungszeiten, Eintrittspreise und die passenden Internetlinks sind praktische Hilfen für die Planung.

Free shipping in Switzerland*
20% discount for 3 items
* Except for bulky good deliveries (posters)
With our app you can easily download selected maps and save them offline. So you can have your maps digitally on your smartphone or tablet whenever you need them.
More than 1000 Web-Sites in 47 countries! Listing of important European Web-Sites supporting your planning and booking of journeys.