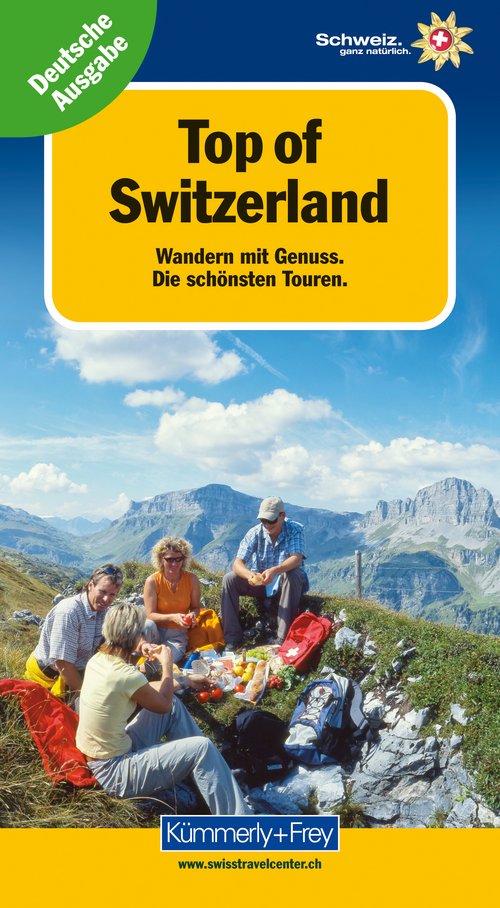 Wanderungen für Gross und Klein
Unbekannte Orte besuchen, von denen Sie vielleicht schon mal gehört haben, dass es sie gibt. Gönnen Sie sich die Horizonterweiterung mit dem brandneuen Führer der Reihe "Top of Switzerland" - Wandern mit Genuss von Kümmerly+Frey.
Kurz und verständlich beschrieben finden Sie alles Wissenswerte rund um Ihre Wanderung für Gross und Klein. Die Themenbereiche sind wie folgt übersichtlich geordnet: Von Alp zu Alp - Mit dem Schiff zum Wanderplausch - Im Banne der Mythen - Den Suonen bei Grächen entlang - Über den Dächern von Zürich - Im schönen Greyerzerland - Kultur und Natur rund um Basel - Auf alten Pilgerwegen unterwegs - Zum Felsenkessel Creux du Van - Über saftige Juraweiden zum Moorsee.
Traumhafte Bilder versetzen Sie schon bei der Planung Ihrer nächsten Ausflüge in Vorfreude. Die wesentlichen Internet-Links ersparen Ihnen die lange Suche nach noch mehr Detailinformationen. Höhenprofile, Streckenbeschreibungen mit Zeitangabe, Hinweise zum öffentlichen Verkehr und zu Verpflegungs- und Übernachtungsmöglichkeiten fehlen ebenso wenig wie Kartenausschnitte.
140 Seiten
back to list

Free shipping in Switzerland*
20% discount for 3 items
* Except for bulky good deliveries (posters)
PLAN, DISCOVER, EXPERIENCE - on the web and mobile!
Download our HKF Outdoor App!
More than 1000 Web-Sites in 47 countries! Listing of important European Web-Sites supporting your planning and booking of journeys.