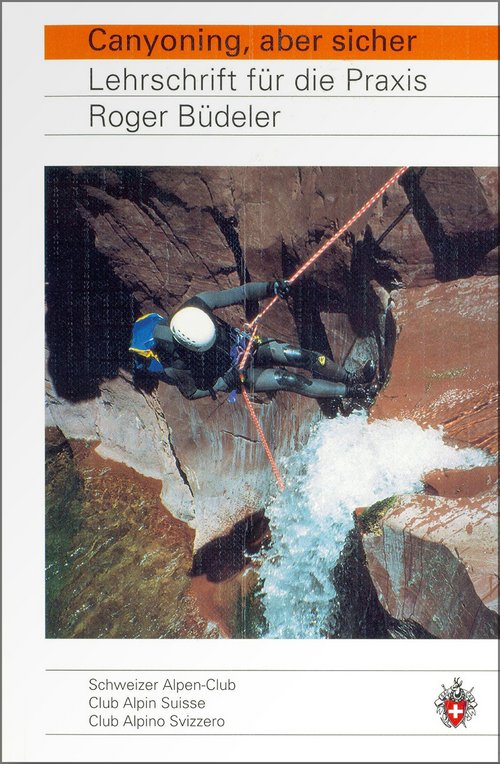 • Besondere Gefahren und Gefahrenprävention
• Tourenvorbereitung und allgemeines Verhalten
• Zeichensprache
• Fortbewegung in der Schlucht
• Techniken zur Intervention bei Gefahr
Der nasse Bergsport, wie das Canyoning auch genannt wird, verbindet die Faszination von Fels und Wasser mit der sportlichen Vielfalt und der Herausforderung. Dem passionierten Canyonist und Autor Roger Büdeler gelingt es mit dieser Schrift, diese Einheit dem interessierten Leser näherzubringen und gleichzeitig einen Überblick über die noch junge Sportart zu verschaffen. Diese Lehrschrift stellt die grundlegenden Kenntnisse und Techniken des Canyoning vor. Besonderes Augenmerk gilt dabei der Sicherheit, indem ausführlich auf spezielle Risiken und Gefahrenprävention eingegangen wird. Zahlreiche Farbabbildungen illustrieren den verständlichen Text und mit den detaillierten Zeichnungen bietet das Buch eine wichtige Hilfe beim praktischen Erlernen der Techniken. Wie alle Lehrmittel kann auch diese Publikation zwar nie die ganze Praxiserfahrung und das komplette Wissen von Fachleuten und langjährig praktizierenden Sportlern vermitteln. Wer sich aber die Tipps und Tricks der Profis in dieser Schrift zu Herzen nimmt, kann unterwegs richtig reagieren und so das Erlebte noch intensiver geniessen.

Free shipping in Switzerland*
20% discount for 3 items
* Except for bulky good deliveries (posters)
With our app you can easily download selected maps and save them offline. So you can have your maps digitally on your smartphone or tablet whenever you need them.
More than 1000 Web-Sites in 47 countries! Listing of important European Web-Sites supporting your planning and booking of journeys.