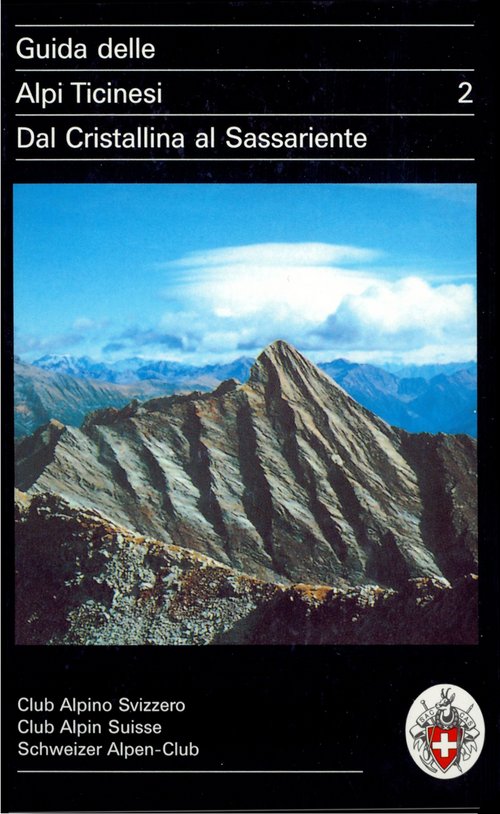 Il Ticino degli antichi montanari, terra asprea e sacra, rivive grazie al suo cantore competente e ostinato!
Descrizione degli itinerari:
• Gruppo Pizzo Cavagnöö - Cima di Lago - Cristallina - Cima delle Donne
• Gruppo Cavallo del Toro - Poncione di Braga - Pizzo Castello - Pizzo d'Ogliè - Pizzo Paràula
• Gruppo Pizzo del Lago Scuro - Pizzo di Röd - Pizzo Mascarpino
• Gruppo Il Madone - Poncione di Vespero - Pizzo Massari
• Gruppo del Pizzo Campolungo e del Pizzo Campo Tencia
• Gruppo Pizzo Barone - Corona di Redòrta - Cima di Cagnói
• Gruppo Monte Zucchero - Rasiva - Poncione della Marcia
• Gruppo Pizzo die Chènt - Pizzo delle Pecore - Sasso Bello
• Gruppo Pizzo Albèr - Poncione Piancascia - Madom da Sgióf - Cima della Trosa
• Gruppo Pizzo di Piancói - Cima Bianca - Madom Gröss - Cima Efra
• Gruppo Scaiee - Cima di Gagnone - Poncione d'Alnasca - Föpia
• Gruppo Cima di Rierna - Poncione Rosso - Poncione di Piotta
• Gruppo Pizzo di Vogorno - Madone - Cima dell'Uomo - Gaggio - Sassariente

Free shipping in Switzerland*
20% discount for 3 items
* Except for bulky good deliveries (posters)
With our app you can easily download selected maps and save them offline. So you can have your maps digitally on your smartphone or tablet whenever you need them.
More than 1000 Web-Sites in 47 countries! Listing of important European Web-Sites supporting your planning and booking of journeys.