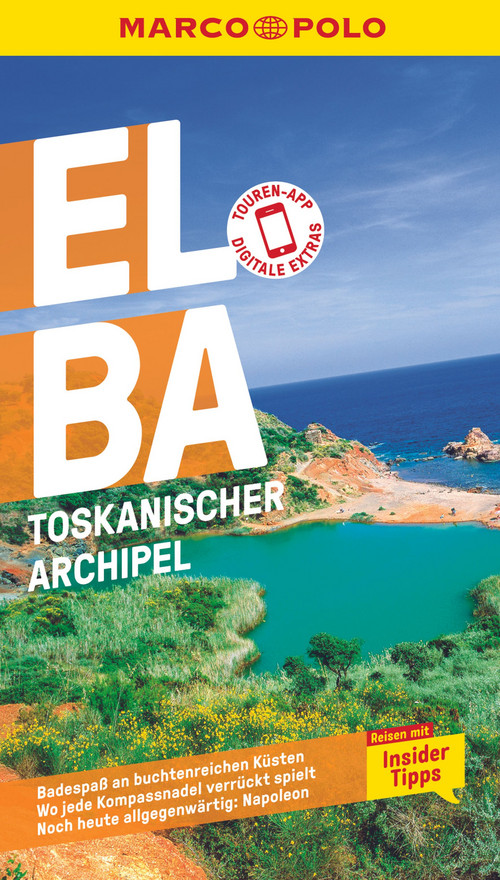 Urlaub in Napoleons Exil mit dem MARCO POLO Reiseführer Elba – Toskanischer Archipel Der Legende nach ist Elba eine der Perlen, die Venus beim Baden im Meer verlor. Kein Wunder, dass die Insel so perfekt für einen Traumurlaub ist! Hier findest du endlose Strände, Berge mit fantastischem Ausblick und eine unglaublich reiche Tier- und Pflanzenwelt – noch dazu auf kleinstem Raum.

Entspanne in den wildromantischen Buchten oder wandle auf den Spuren von Napoleon. Egal, wonach dir der Sinn steht, dein MARCO POLO Reiseführer hält immer die besten Tipps für dich bereit!
Erkunde Elba mit den MARCO POLO Erlebnistouren: Ausflüge und Stadtrundgänge für Neugierige, Genießer, Architekturfans und Familien – mit Karte oder kostenloser Touren-App! Shoppen, schlemmen oder Sport? Mit MARCO POLO findest du die beliebtesten Shoppingmeilen, Szenelokale und Aktivitäten der Insel Entdecke Elba abseits der touristischen Hotspots mit den MARCO POLO Insider-Tipps von Autoren, die vor Ort leben Best-of-Tipps für den Urlaub mit Kindern, Low Budget oder schlechtes Wetter Alle Highlight-Karten und Stadtpläne komplett überarbeitet
Italien im Kleinformat: Erlebe unvergessliche Momente auf Elba

Auf deinen Kompass solltest du dich auf Elba lieber nicht verlassen, denn das magnetische Gestein des Monte Calamita soll sogar schon Schiffe vom Kurs abgebracht haben. Aber keine Sorge: Dein MARCO POLO Reiseführer und die praktische Touren-App sorgen dafür, dass du auf Elba und den umliegenden Inseln nie die Orientierung verlierst. Egal, ob du auf der Passeggiata Carmignani die malerische Küste entlangwanderst oder die Insel mit dem Kajak umrundest: Mit deinem MARCO POLO Reiseführer Elba – Toskanischer Archipel bist du für jedes Abenteuer perfekt ausgestattet!

Free shipping in Switzerland*
20% discount for 3 items
* Except for bulky good deliveries (posters)
PLAN, DISCOVER, EXPERIENCE - on the web and mobile!
Download our HKF Outdoor App!
More than 1000 Web-Sites in 47 countries! Listing of important European Web-Sites supporting your planning and booking of journeys.