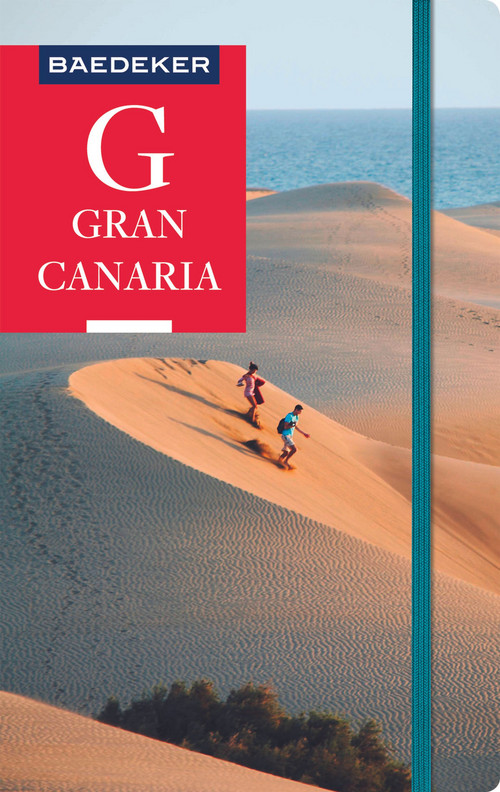 Weit gezogene Trockenhänge, Dünen und Kakteen im Süden. Dichte Wälder, blühende Obstbäume und Gemüsefelder im Norden. An die 2 000 Meter hohe Berge in der Mitte. Auf engstem Raum kann Gran Canaria mit sage und schreibe 14 Mikroklimazonen aufwarten – wie im Zeitraffer von Nordafrika bis Südtirol. Die entsprechend vielfältige Tier- und Pflanzenwelt der Insel wartet nur darauf, von Ihnen entdeckt zu werden!
Exotik ganz nah, unterwegs und doch daheim – ein solch wohliges Gefühl stellt sich abends in Playa del Inglés, immerhin 3 500 km von der Heimat entfernt, schnell ein: Es ist noch herrlich warm, die Stimmung nach ein paar Gläschen so richtig rotweinwohlig. Urlaub eben! Weg vom Büro, weg vom schlechten Wetter – nach läppischen vier Flugstunden. Ihr Schnitzel auf Deutsch bestellen? Auf Gran Canaria kein Problem! Der neue Baedeker verrät Ihnen, wo's am besten schmeckt …
Nicht unbedingt augenscheinliche, vielmehr magische Momente stehen beim neuen Baedeker im Fokus – statten Sie Fataga einen Besuch ab: Ein bisschen wie aus der Zeit gefallen wirken die leuchtenden weißen Häuschen mitten in der steilwandigen Schlucht auf dem grünen Felsplateau – beim Schlendern durch die verwinkelten Gassen kommen Sie den klassischen Kanaren so nah wie selten. Ein wenig Blumenschmuck, Sonnenschein, kanarisches Gebäck in der Hand: Das Leben kann so einfach sein!

Free shipping in Switzerland*
20% discount for 3 items
* Except for bulky good deliveries (posters)
PLAN, DISCOVER, EXPERIENCE - on the web and mobile!
Download our HKF Outdoor App!
More than 1000 Web-Sites in 47 countries! Listing of important European Web-Sites supporting your planning and booking of journeys.