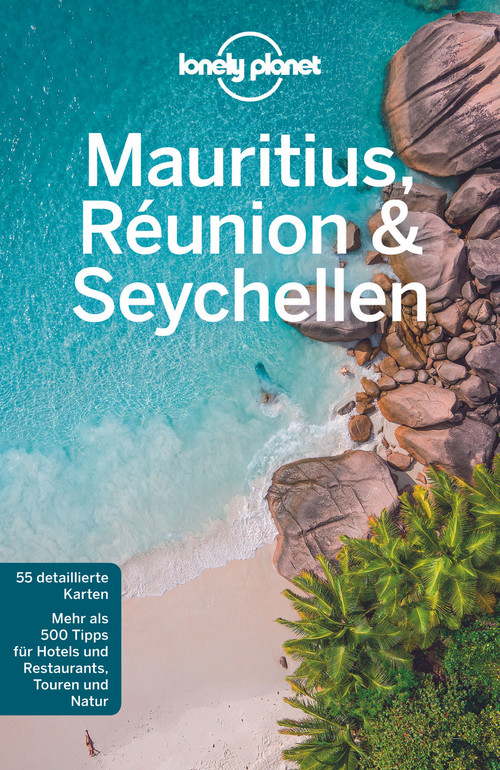 Mit dem Lonely Planet Mauritius, Réunion & Seychellen auf eigene Faust durch das Paradies. Etliche Monate Recherche stecken im Kultreiseführer für Individualreisende. Auf 392 Seiten geben die Autoren sachkundige Hintergrundinfos zum Reiseland, liefern Tipps und Infos für die Planung der Reise, beschreiben alle interessanten Sehenswürdigkeiten mit aktuellen Öffnungszeiten und Preisen und präsentieren ihre persönlichen Entdeckungen und Tipps. Auch Globetrotter, die abseits der ausgetretenen Touristenpfade unterwegs sein möchten, kommen auf ihre Kosten. Erleben Sie die Inseln, die in ihrer Schönheit schwerlich zu übertreffen sind: Spektakuläre Landschaften, Tierbeobachtung und traumhafte Strände – Romantik pur. Fünf Tage Glück in den Bergen? – Die "Tour des Cirques" auf Réunion ist eine der schönsten Trekkingtouren der Welt. Erholen können Sie sich an einem der malerischen Strände, die überall zu finden sind. Vielleicht möchten Sie Curieuse besuchen, eine Insel der Seychellen, die früher eine Leprastation war und heute für die Aldabra-Riesenschildkröten als Brutstation dient oder doch lieber schwimmen gehen mit Walhaien und riesigen Rochen vor Mahé? Und gefeiert wird auch auf den Inseln! Ganz sicher wird Ihnen das eine oder andere hinduistische oder kreolische Fest in Erinnerung bleiben! Wo übernachten und essen? Für jedes Reiseziel gibt es eine Auswahl an Unterkünften und Restaurants für jeden Geschmack und Geldbeutel. Abgerundet wird der Guide durch Übersichts- und Detailkarten, einem Farbkapitel zu den 17 Top-Highlights, Specials zu den Themen: Panorama-Autotouren / Outdoor-Aktivitäten / inspirierende Fotoseiten / Einblicke in die Inselkultur, Reiserouten, fundierte Hintergrundinformationen sowie Glossar und - damit Sie gut verständlich ankommen - einem Sprachführer. Der Lonely- Planet-Reiseführer Mauritius, Réunion & Seychellen ist ehrlich, praktisch, witzig geschrieben und liefert inspirierende Eindrücke und Erfahrungen.

Free shipping in Switzerland*
20% discount for 3 items
* Except for bulky good deliveries (posters)
PLAN, DISCOVER, EXPERIENCE - on the web and mobile!
Download our HKF Outdoor App!
More than 1000 Web-Sites in 47 countries! Listing of important European Web-Sites supporting your planning and booking of journeys.