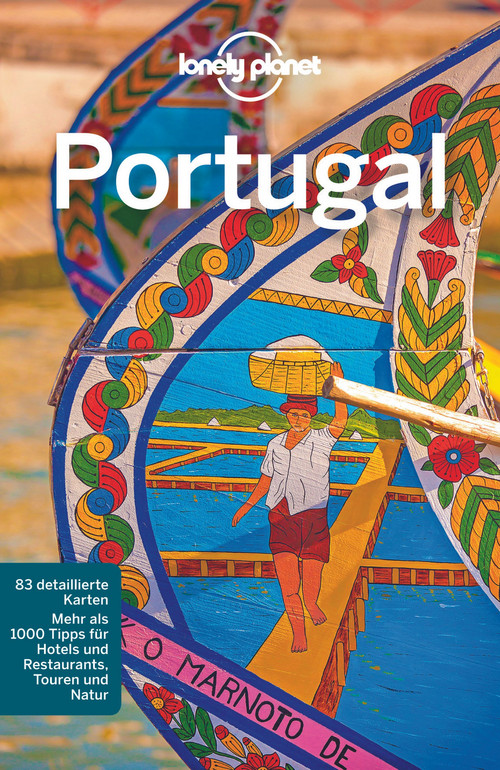 Mit dem Lonely Planet Portugal auf eigene Faust durch eines der
schönsten Länder der Welt! Etliche Monate Recherche stecken im
Kultreiseführer für Individualreisende. Auf mehr als 600 Seiten geben
die Autoren sachkundige Hintergrundinfos zum Reiseland, liefern Tipps
und Infos für die Planung der Reise, beschreiben alle interessanten
Sehenswürdigkeiten mit aktuellen Öffnungszeiten und Preisen und
präsentieren ihre persönlichen Entdeckungen und Tipps.
Auch Globetrotter, die abseits der ausgetretenen Touristenpfade
unterwegs sein möchten, kommen auf ihre Kosten. Wie wäre es
beispielsweise mit zerklüfteten Burgstädtchen? Monsanto hat eine
majestätische Schönheit plus Wanderwege zu anderen historischen Dörfern.
Oder lieber malerische Zugfahrten? Auf der Douro-Linie nach Osten bis
Pocinho warten überwältigende Ausblicke auf Fluss und Weinberge. Und wo
unterwegs aktiv werden und essen? Für jeden größeren Ort gibt es eine
Auswahl an Unterkünften und Restaurants für jeden Geschmack und
Geldbeutel.
Abgerundet wird der Guide durch Übersichts- und Detailkarten, ein
Farbkapitel mit 27 Top-Erlebnissen, Reiserouten, Farbkapitel Essen &
Wein, Tipps von Insidern, fundierte Hintergrundinformationen,
inspirierende Fotos  sowie Glossar und - damit Sie gut durchs Land
kommen - einen Sprachführer.
Der Lonely-Planet-Reiseführer Portugal ist ehrlich, praktisch, witzig
geschrieben und liefert inspirierende Eindrücke und Erfahrungen.

Free shipping in Switzerland*
20% discount for 3 items
* Except for bulky good deliveries (posters)
PLAN, DISCOVER, EXPERIENCE - on the web and mobile!
Download our HKF Outdoor App!
More than 1000 Web-Sites in 47 countries! Listing of important European Web-Sites supporting your planning and booking of journeys.