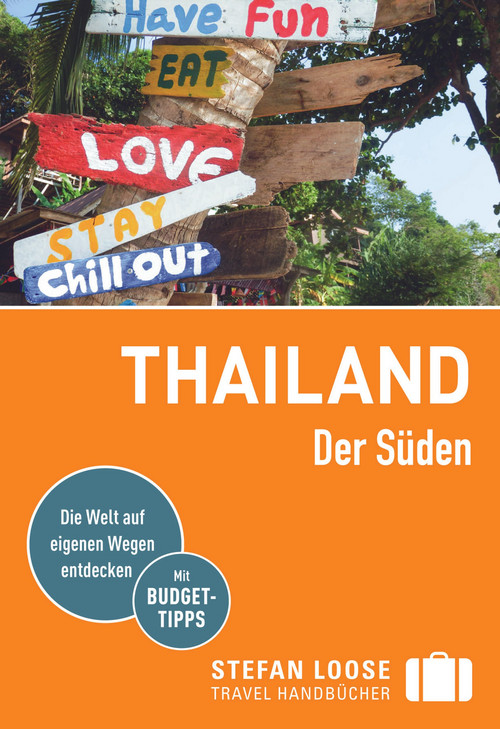 Wie wäre es damit, dem grauen Winter einfach mal zu entfliehen und stattdessen im Warmen am Strand zu liegen? Oder in den Sommerferien die Inseln im Golf mit der gesamten Familie unsicher zu machen? Das Handbuch gibt einen Überblick über Land und Leute und weist alle möglichen Wege zum persönlichen Traumstrand. Doch das Buch beschreibt nicht nur die Highlights, es nennt auch die unbekannten Ziele, macht Vorschläge für alternative Routen abseits der viel genutzten Pfade. Faul am Strand liegen oder aktiv sein, das Buch gibt Tipps für jeden Geschmack und lässt keine Fragen offen. Der Loose-Reiseführer "Thailand – Der Süden" (6. Aufl., ersch. 03/2020) ist akribisch und mit viel Kompetenz und Spaß recherchiert und geschrieben. Und damit der Leser nicht bis zur nächsten Auflage auf neue  Tipps warten muss, gibt es zahlreiche eXTras im Buch – direkte Links auf die Webseite www.stefan-loose.de/thailand mit vielen aktuellen Zusatzinfos. Außerdem hilft die Loose- Familie im Forum bei offenen Fragen gerne weiter. Und so ist dieser Loose der perfekte Begleiter für alle Neugierigen und weit mehr als "nur" ein gedruckter Reiseführer.

Free shipping in Switzerland*
20% discount for 3 items
* Except for bulky good deliveries (posters)
PLAN, DISCOVER, EXPERIENCE - on the web and mobile!
Download our HKF Outdoor App!
More than 1000 Web-Sites in 47 countries! Listing of important European Web-Sites supporting your planning and booking of journeys.