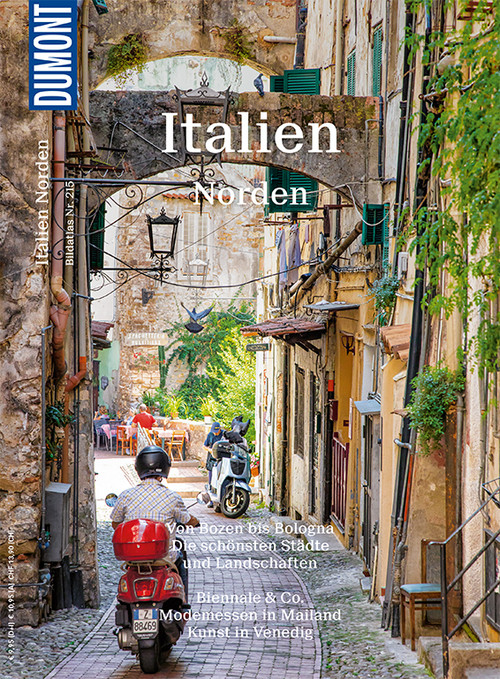 Herrliche Küstenabschnitte, Gebirgslandschaften und historische Städte mit bedeutenden Kulturdenkmälern - der Norden Italiens ist so vielfältig, dass Sie sich am besten viel Zeit nehmen. Aktivurlaub, Badeurlaub, Studienreise. Geht alles. In fünf Kapiteln liefern wir Ihnen tolle Aufnahmen und geben Ihnen einen Überblick über den Norden Italiens. Unsere Autorin Rita Henss sagt Ihnen was Sie auf keinen Fall versäumen dürfen – dazu alles rund um Ausflüge, Märkte und Museen, ausgesuchte Hotels und Restaurants sowie alle wichtigen Anschriften, Öffnungszeiten und Internet-Links. Die eingestreuten Hintergrundreportagen und Specials greifen kritisch aktuelle und interessante Themen auf, die unterhaltsam zu lesen sind. Den Abschluss eines jeden Kapitels bilden Infoseiten mit allen wichtigen Sehenswürdigkeiten, die auf der nebenstehenden detaillierten Reisekarte leicht zu lokalisieren sind. Besondere Empfehlungen der Autorin finden sich in den DuMont Aktivtipps: Wandern in den Alpen, Segeln im Golf von Triest oder Stand Up Paddling am Gardasee. Hobbyköche sind auf dem Weingut Marrone willkommen – kochen Sie mit Mamma Giovanna piemontesische Gerichte und das am besten, während Sie Ihren Lieblingswein trinken. Abgerundet wird der Bildatlas durch das Servicekapitel, das praktische und allgemeine Informationen für die Vorbereitung der Reise beinhaltet. Begeben Sie sich mit dem Bildatlas auf Entdeckungsreise….

Free shipping in Switzerland*
20% discount for 3 items
* Except for bulky good deliveries (posters)
PLAN, DISCOVER, EXPERIENCE - on the web and mobile!
Download our HKF Outdoor App!
More than 1000 Web-Sites in 47 countries! Listing of important European Web-Sites supporting your planning and booking of journeys.