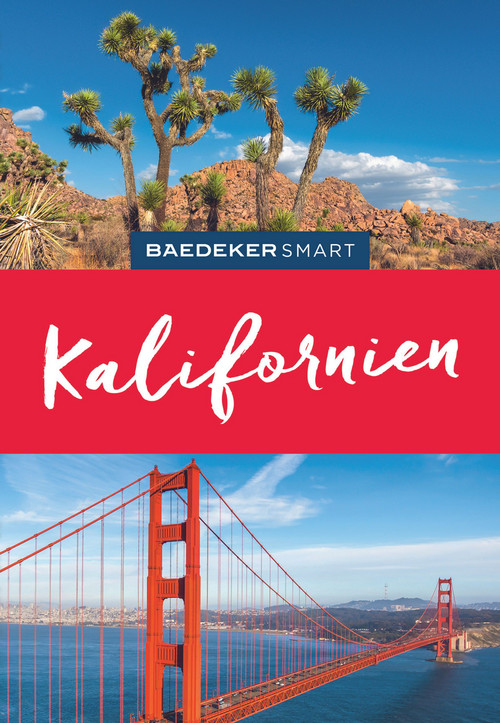 Der Baedeker SMART Kalifornien führt mit perfekten Tagesprogrammen durch jede Region des US- Bundesstaats und zeigt die beliebtesten Attraktionen, jeweils mit Tipps für kleine Pausen in Cafés, Restaurants oder Bars.
Den Auftakt bilden die TOP 10 Kaliforniens: die wichtigsten Sehenswürdigkeiten des Golden State, die man unbedingt gesehen haben muss, von der absoluten Nummer eins bis zur nicht mehr ganz so wichtigen Nummer zehn. Kalifornien emotional zu erleben- dabei helfen die Tipps des "Kalifornien Gefühls", zum Beispiel eine Fahrt mit der altertümlichen Cable Cardurch San Francisco oder eine Wanderung durch den Palmenhain im Palm Canyon.
"Das Magazin" erzählt spannende und unterhaltsame Geschichten über das Leben im Golden State. Vorgestellt wird Kalifornien hinter dem typischen Bild von braungebrannten Menschen, Filmstars in Luxuscabrios und Palmen, denn jenseits dieser allseits bekannten Klischees steckt noch deutlich Interessanteres. Erzählt wird auch vom großen Goldrausch, der den Staat nachhaltig prägte, von einer Küche mit Einflüssen aus aller Welt und von der blühenden Filmindustrie mit und um Hollywood.
In fünf nach Regionen und Städten gegliederten Kapiteln werden die wichtigsten und interessantesten Sehenswürdigkeiten vorgestellt und auf erlebnisreichen Tagestouren erkundet, die natürlich auch Zeit für genussvolle Pausen einplanen. Detailreiche 3D-Grafiken blicken in das Getty Center in Los Angeles oder auf die Golden Gate Bridge.
Abgeschlossen werden die einzelnen Kapitel mit den Beschreibungen ausgewählter Restaurants, der besten Shoppingmeilen und der attraktivsten Ausgeh-Adressen.
Auf Spaziergängen durch Santa Barbara oder einer Tour entlang dem Coast Highway kann man die vielen verschiedenen Facetten des sonnenverwöhnten Staates an der Westküste kennenlernen.
Zum Schluss laden die amüsanten "10 Gründe wiederzukommen" zu einem weiteren Besuch des Staates ein - schließlich bietet Kalifornien immer wieder Neues.

Free shipping in Switzerland*
20% discount for 3 items
* Except for bulky good deliveries (posters)
PLAN, DISCOVER, EXPERIENCE - on the web and mobile!
Download our HKF Outdoor App!
More than 1000 Web-Sites in 47 countries! Listing of important European Web-Sites supporting your planning and booking of journeys.