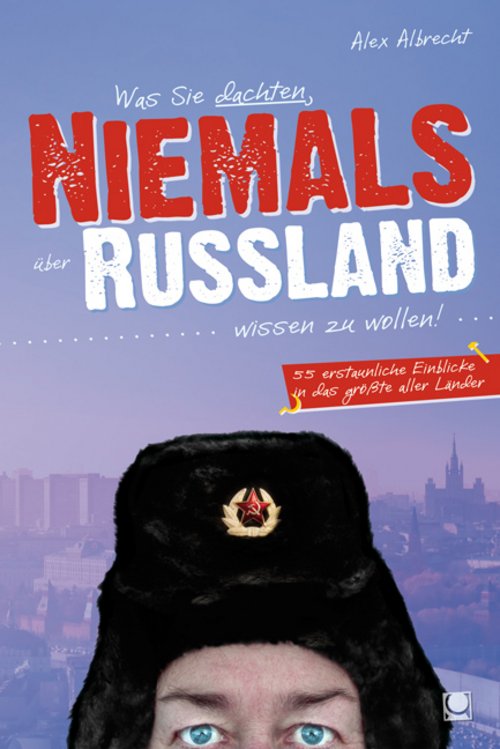 Die Weite der sibirischen Wälder, die Wildnis Kamchatkas, das pulsierende Leben in Europas größter Metropole - weithin bekannt ist, was das vielseitige Russland dem neugierigen Reisenden zu bieten hat.
Was aber verbirgt sich hinter dem - mittlerweile offiziell ja nicht mehr eisernen - Vorhang? Von horrenden Umweltskandalen, der Liebe zum Alkohol und charismatischen Führungspersönlichkeiten hat man ja sicher schon einiges gehört. War Ihnen aber bewusst, dass in Russland eine kreative Auslegung der Realität zum guten Ton gehört, dass ein Riesenkrake namens Geheimdienst das Leben Stück für Stück weiter an sich reißt - und dass Russland seinem strengen Klima zum Trotz eigentlich eine ziemliche Bananenrepublik ist?
In 55 erhellenden und erheiternden Kapiteln werden wir Sie gründlich darüber aufklären, was oft im Verborgenen bleibt. Und wir werden Ihnen endlich erzählen, warum Russen im Urlaub so anstrengend sind, tatsächlich dem Wodka nicht abschwören können und leider eine reichlich verzerrte Vorstellung davon haben, was im Rest der Welt so vor sich geht.
Ein humorvolles Portrait und ein ernster Blick auf das Riesenreich, hilfreich sowohl für Reisende als auch für Daheimgebliebene - schließlich kann man sich nicht sicher sein, dass nicht auch der eigene Lieblingsverein bald einem fußballbegeisterten Oligarchen gehört.
Wir erzählen Ihnen in 55 erhellenden und erheiternden Momenten, was Sie dachten, niemals über Russland wissen zu wollen.
E-Book inside: Dieses Buch enthält einen Code zum kostenlosen Download der E-Book-Version.

Free shipping in Switzerland*
20% discount for 3 items
* Except for bulky good deliveries (posters)
PLAN, DISCOVER, EXPERIENCE - on the web and mobile!
Download our HKF Outdoor App!
More than 1000 Web-Sites in 47 countries! Listing of important European Web-Sites supporting your planning and booking of journeys.