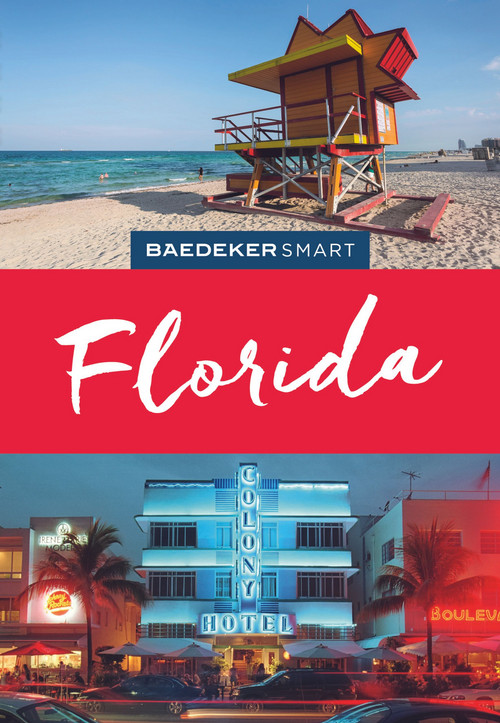 Der Baedeker SMART Florida führt mit perfekten Tagesprogrammen durch jede Region des US-Bundesstaats und zeigt die beliebtesten Attraktionen, jeweils mit Tipps für kleine Pausen in Cafés, Restaurants oder Bars. Den Auftakt bilden die TOP 10 Florida: die wichtigsten Sehenswürdigkeiten des Staates, die man unbedingt gesehen haben muss, von der absoluten Nummer eins bis zur nicht mehr ganz so wichtigen Nummer zehn. Florida emotional zu erleben - dabei helfen die Tipps des "Florida Gefühls", zum Beispiel auf einem weit in den Golf von Mexiko reichenden Pier den Sonnenuntergang betrachten oder sich in einer Strandbar einfach einmal guten Gewissens der Faulheit hingeben. "Das Magazin" erzählt spannende und unterhaltsame Geschichten über das Leben im Sunshine State. Vorgestellt wird eine der größten Touristenattraktionen Floridas, Walt Disneys großer Traum, das Walt Disney World Resort, das seit 1971 durch seinen unwiderstehlichen Zauber immer noch tagtäglich Heerscharen von Familien anlockt . Erzählt wird auch von Floridas Raumfahrtprogramm, von weiten weißen Sandstränden und von bezaubernden Naturlandschaften. In vier nach Regionen gegliederten Kapiteln werden die wichtigsten und interessantesten Sehenswürdigkeiten vorgestellt und auf erlebnisreichen Tagestouren erkundet, die natürlich auch Zeit für genussvolle Pausen einplanen. Detailreiche 3D-Grafiken blicken in den Art Deco District  in Miami Beach oder in das Castillo de San Marcos in St Augustine. Abgeschlossen werden die einzelnen Kapitel mit den Beschreibungen ausgewählter Restaurants, der besten Shoppingmeilen und der attraktivsten Ausgeh-Adressen. Auf Spaziergängen durch Winter Park oder eine Tour entlang der Space Coast kann man die vielen verschiedenen Facetten des Bundesstaats an der Atlantik- und Golfküste kennenlernen. Zum Schluss laden die amüsanten "10 Gründe wiederzukommen" zu einem weiteren Besuch des Sunshine State  ein - schließlich bietet Florida immer wieder Neues.
back to list

Free shipping in Switzerland*
20% discount for 3 items
* Except for bulky good deliveries (posters)
PLAN, DISCOVER, EXPERIENCE - on the web and mobile!
Download our HKF Outdoor App!
More than 1000 Web-Sites in 47 countries! Listing of important European Web-Sites supporting your planning and booking of journeys.