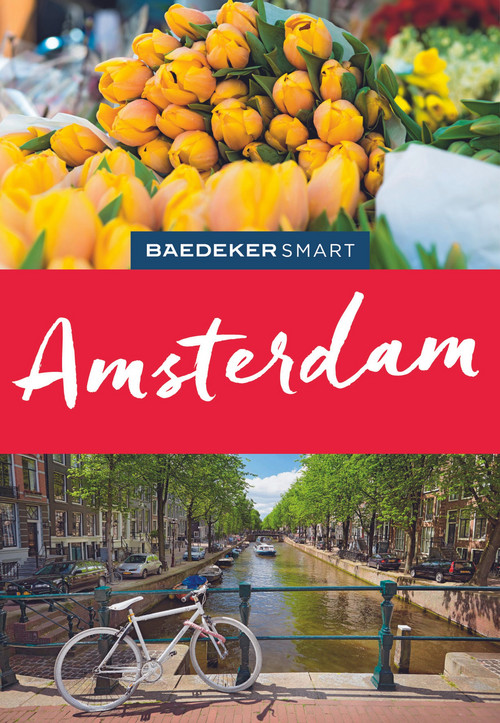 Für die Amsterdamer ist es eine Kröte oder ein gelandetes Raumschiff. Die Rede ist vom EYE Filmmuseum. Ebenso toll wie das Museum selbst ist die Caféterrasse. Bei einem Cappuccino schweift der Blick von hier auf das historische Amsterdam mit seinem einmaligen Grachtengürtel. Erleben Sie Amsterdam mal ganz anders: Auf beiden Seiten des IJ entstanden in den letzten Jahren spektakuläre Architektur, neue Wohnviertel, hippe Hotels, Hotspots der Ausgehszene. Vielleicht haben Sie aber auch Lust, für einen Tag in den typischen Amsterdamer Alltag einzutauchen? Oder wollen Sie lieber eine Shoppingrunde einlegen, in netten Läden stöbern, die nur Insider kennen? Neben allen klassischen Sehenswürdigkeiten halten wir Ideen für ganz besondere Urlaubstage für Sie bereit.
Alle wichtigen Sehenswürdigkeiten Amsterdams präsentieren wir in fünf Kapiteln. Innerhalb jedes Kapitels gliedern sich die Sehenswürdigkeiten in drei Kategorien: »TOP 10«, »Nicht verpassen!« und »Nach Lust und Laune!«. So weiß man sofort, was man unbedingt anschauen sollte. Und nach der Besichtigung? Wie wäre es mit einer »kleinen Pause«? Beispielsweise können Sie im »Mokum«, im Café des Amsterdam-Museums, untergebracht im ehemaligen Kuhstall des früheren Klosters, in dem sich heute das Museum befindet, in aller Ruhe die Stadtgeschichte nochmal Revue passieren lassen. Oder kosten Sie einmal »Papageiensuppe«. Diesen Likör stellt man in der Bar »Wynand Fockink«, die in einer Seitengasse des Dam liegt, selbst her. Und wenn's schmeckt, dann probieren Sie dort noch weitere der zum Teil recht obskuren Mixturen. Gute Adressen für Restaurants und Bars, Tipps für Events und zum Ausgehen sowie attraktive Einkaufen-Adressen runden jedes der fünf Kapitel ab.
Zudem haben wir Ideen für erlebnisreiche Spaziergänge zusammengestellt. Vorschläge zum Übernachten und wie Sie vor Ort gut zurechtkommen, erfahren Sie im Abschnitt »Praktische Informationen«. Mit Atlasteil im Band und großem separaten Cityplan können Sie sich in Amsterdam schnell und einfach orientieren.

Free shipping in Switzerland*
20% discount for 3 items
* Except for bulky good deliveries (posters)
PLAN, DISCOVER, EXPERIENCE - on the web and mobile!
Download our HKF Outdoor App!
More than 1000 Web-Sites in 47 countries! Listing of important European Web-Sites supporting your planning and booking of journeys.