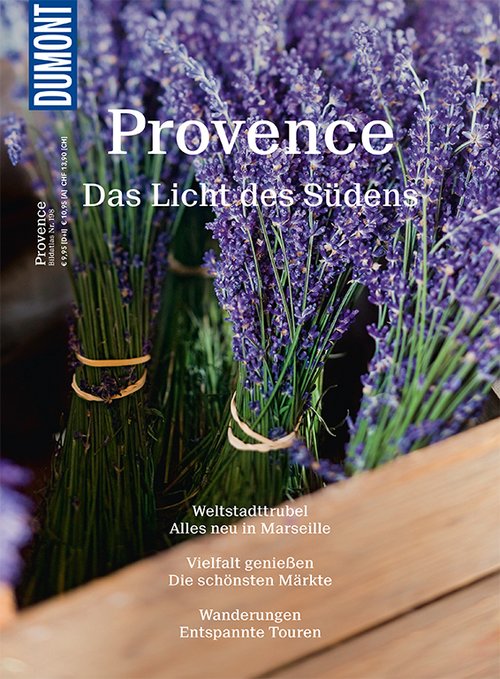 DuMont Bildatlas Provence - die Bilder des Fotografen Elan Fleisher zeigen faszinierende Panoramen und ungewöhnliche Nahaufnahmen. Sechs Kapitel, gegliedert nach regionalen Gesichtspunkten geben einen Einblick in die Region zwischen Meer und Hochgebirge. Den Abschluss eines jeden Kapitels bilden Infoseiten mit allen wichtigen Sehenswürdigkeiten, die auf der nebenstehenden detaillierten Reisekarte leicht zu lokalisieren sind. Viele persönliche (Aktiv-)Tipps ergänzen das Infoangebot: Da wartet der Mont-Ventous mit  8% Steigung im Durchschnitt, selbst für trainierte Radsportler eine Herausforderung. Und vor den Toren von Marseille finden Wanderfreunde im Calanques-Nationalpark 150 km Wanderweg mit einer einzigartigen Flora und Fauna. Wer es gemütlicher angehen lassen möchte, kann im Kajak auf der Rhône, Sorgue oder Durance gemütlich an Dörfern und Städten vorbeipaddeln oder mit dem Heißluftballon über die Landschaft des Luberon schweben. Und wo Sie in einsamer Natur noch zum wilden Baden gehen gönnen, verrät Ihnen unsere Autorin Hilke Maunder. Abgerundet wird der Bildatlas durch das Servicekapitel, das praktische und allgemeine Informationen für die Vorbereitung der Reise beinhaltet sowie Daten und Fakten zur Destination liefert. Kompakt zusammengefasst und übersichtlich überzeugt der DUMONT Bildatlas als zuverlässiger Reisebegleiter und garantiert erlebnisreiche Tage in der Provence.

Free shipping in Switzerland*
20% discount for 3 items
* Except for bulky good deliveries (posters)
PLAN, DISCOVER, EXPERIENCE - on the web and mobile!
Download our HKF Outdoor App!
More than 1000 Web-Sites in 47 countries! Listing of important European Web-Sites supporting your planning and booking of journeys.