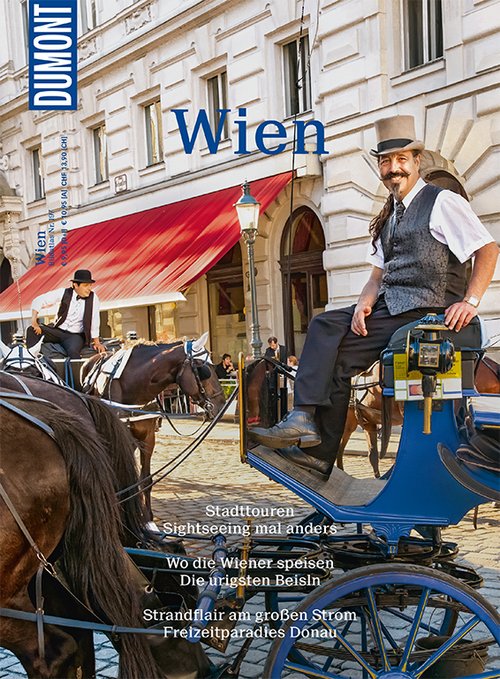 DuMont Bildatlas Wien - die Bilder des Fotografen Toni Anzenberger zeigen faszinierende Panoramen und ungewöhnliche Nahaufnahmen. Sechs Kapitel, gegliedert nach regionalen Gesichtspunkten, geben einen Überblick über die Stadt, die gute Einkaufsmöglichkeiten, gemütliche Cafes und viel Kultur zu bieten hat. Lesen Sie wie traditionell und wie trendig diese Stadt ist. Was hat es auf sich mit des Kaisers Lieblingsspeise und der altehrwürdigen Kaffeehauskultur?  Und was tun in Wien? Stephansdom, Schönbrunn, Hofburg – alles Pflichtprogramm. Was Sie noch unternehmen können? In der Karlskirche bringt Sie ein Panoramalift in schwindelerregender Höhe den Kuppel-Fresken ganz nahe. Bodenständiger ist eine Wanderung durch den Nationalpark Donau-Auen mit einer kulinarischen Pause in "Humers Uferhaus" (Empehlung: Karpfen auf serbische Art!) oder eine gemütliche Donaufahrt mit einer Tschaike. Zu jedem Kapitel gehören Hintergrundreportagen und Specials, die aktuelle und interessante Themen aufgreifen. Den Abschluss eines jeden Kapitels bilden Infoseiten mit allen wichtigen Sehenswürdigkeiten, die auf der nebenstehenden detaillierten Reisekarte leicht zu lokalisieren sind. Kompakt zusammengefasst und übersichtlich überzeugt der DUMONT Bildatlas als zuverlässiger Reisebegleiter und garantiert erlebnisreiche Tage. Ob Sightseeing oder Rahmenprogramm – nehmen Sie sich Zeit für diese Stadt.

Free shipping in Switzerland*
20% discount for 3 items
* Except for bulky good deliveries (posters)
PLAN, DISCOVER, EXPERIENCE - on the web and mobile!
Download our HKF Outdoor App!
More than 1000 Web-Sites in 47 countries! Listing of important European Web-Sites supporting your planning and booking of journeys.