120 schönstgelegene Hotels in der Schweiz und im benachbarten Ausland
Mit Freizeit- und Wandertipps zu jedem Reiseziel
Welche Hotels und Gasthäuser im "Herzen Europas" faszinieren mit den spektakulärsten Ausblicken und bieten grosses Landschaftskino?
Dieser kritische Wegweiser für entdeckungsfreudige Geniesser gibt erstmals den Überblick. Von Graubünden bis zum Genfersee, vom Schwarzwald bis ins Piemont und vom Tirol bis ins Burgund hat sich Reiseautor Claus Schweitzer auf die Suche nach 120 ganz besonderen Unterkünften gemacht, die sowohl wegen ihrer Traumlagen als auch wegen ihres stimmigen Gesamtpakets begeistern. Auf schlichte oder luxuriöse Art, aber immer mit Stil.
Ausserdem in diesem Buch: Sorgfältig recherchierte Tipps zu Freizeitangeboten und Wandermöglichkeiten zu jedem Reiseziel, die den Aufenthalt auch ausserhalb der Hotels zu unvergesslichen Erlebnissen machen.
Claus Schweitzer, 280 Seiten, Format 186 x 240 mm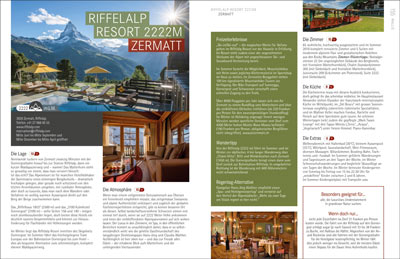 Free shipping in Switzerland*
20% discount for 3 items
* Except for bulky good deliveries (posters)
PLAN, DISCOVER, EXPERIENCE - on the web and mobile!
Download our HKF Outdoor App!
More than 1000 Web-Sites in 47 countries! Listing of important European Web-Sites supporting your planning and booking of journeys.