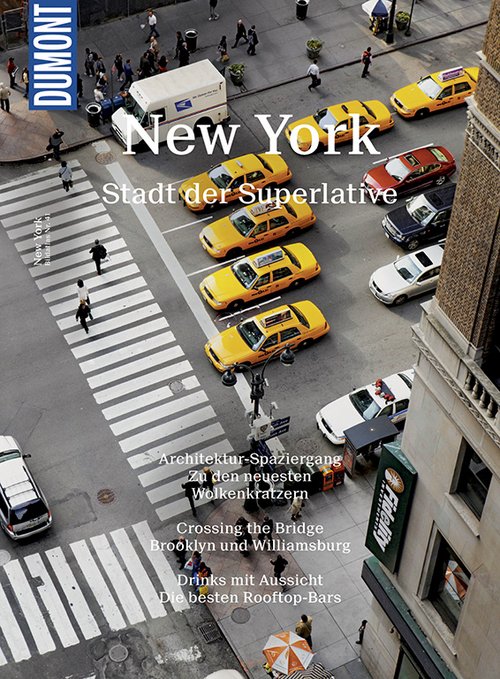 DuMont Bildatlas New York - die Bilder des Fotografen Frank Heuer zeigen faszinierende Panoramen und ungewöhnliche Nahaufnahmen. Sechs Kapitel geben einen Überblick über eine Stadt, die international bekannt ist wie keine andere. Nehmen Sie sich Zeit, um verschiedene Stadtteile und ihre Sehenswürdigkeiten kennenzulernen und genießen Sie Kulturangebot und Shopping-Passagen. Zu jedem Kapitel gehören Hintergrundreportagen und Specials, die aktuelle und interessante Themen aufgreifen. Den Abschluss eines jeden Kapitels bilden Infoseiten mit allen wichtigen Sehenswürdigkeiten, die auf der nebenstehenden detaillierten Reisekarte leicht zu lokalisieren sind. Besondere Empfehlungen für Ihre Freizeitgestaltung enthalten die Aktiv-Kästen des Autoren: machen Sie einen Modespaziergang durch Nolita und das East Village, nutzen Sie das gigantische Sportangebot im Central Park, radeln Sie durch die Straßenschluchten New Yorks oder wandern sie in einer romantischen Flusslandschaft hoch über dem Hudson. Abgerundet wird der Bildatlas durch das Servicekapitel, das praktische und allgemeine Informationen für die Vorbereitung der Reise beinhaltet sowie Daten und Fakten zum Reiseziel liefert. Kompakt zusammengefasst und übersichtlich überzeugt der DUMONT Bildatlas als zuverlässiger Reisebegleiter und garantiert erlebnisreiche Tage in einer Stadt, die man gesehen haben muss.

Free shipping in Switzerland*
20% discount for 3 items
* Except for bulky good deliveries (posters)
PLAN, DISCOVER, EXPERIENCE - on the web and mobile!
Download our HKF Outdoor App!
More than 1000 Web-Sites in 47 countries! Listing of important European Web-Sites supporting your planning and booking of journeys.