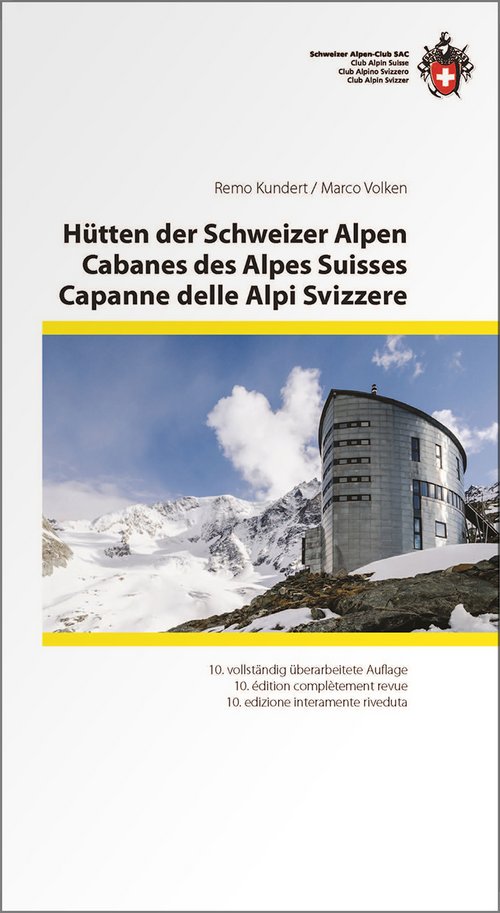 Das neue Hüttenbuch beschreibt 345 Hütten und Biwaks in den Schweizer Alpen, darunter sämtliche Unterkünfte des Schweizer Alpen-Clubs sowie zahlreiche weitere Hütten und Berggasthäuser, und enthält ausführliche Angaben wie: Farbbild der Hütte, Kartenausschnitt mit eingezeichneten Aufstiegsrouten (Sommer/Winter), Angaben zur Anreise mit öffentlichen Verkehrsmitteln, Adressen und Telefonnummern für Informationen und Reservationen, Bewartungszeiten und Verpflegungsmöglichkeiten, Angaben zu Klettergärten, Angaben zum Mobiltelefon-Empfang, Übergänge zu weiteren Berghütten und Ortschaften.

Ce nouveau guide condensé présente 345 cabanes et refuges dans les Alpes Suisses avec toutes les possibilités d'hébergement du Club Alpin Suisse, ainsi que de nombreuses cabanes et auberges d'altitude. Il contient des renseignements utiles et détaillés tels: photos en couleur des cabanes, cartes synoptiques avec possibilités d'accès (été/hiver), données sur les possibilités d'accès avec les transports publics, adresses et numéros de téléphone pour s'informer et réserver, périodes de gardiennage et possibilités de restauration, renseignements sur les écoles d'escalade, données sur la réception du réseau de téléphonie mobile, possibilités de rallier d'autres cabanes et villages.

La nuova guida delle capanne descrive 345 capanne e rifugi delle Alpi Svizzere, tra cui tutti gli alloggi del Club Alpino Svizzero e numerose, altre capanne e alberghi alpini. Inoltre include indicazioni dettagliate come: fotografia a colori della capanna, carta sinottica con gli itinerari d'accesso (estate/inverno), indicazioni relative ai trasporti pubblici, indirizzi e recapiti telefonici per informazioni e riservazioni, orari di presenza del guardiano e possibilità di ottenere pasti e bibite, informazioni sulle palestre di roccia, informazioni sulla ricezione per la telefonia mobile, traversate ad altre capanne e località.

Free shipping in Switzerland*
20% discount for 3 items
* Except for bulky good deliveries (posters)
With our app you can easily download selected maps and save them offline. So you can have your maps digitally on your smartphone or tablet whenever you need them.
More than 1000 Web-Sites in 47 countries! Listing of important European Web-Sites supporting your planning and booking of journeys.