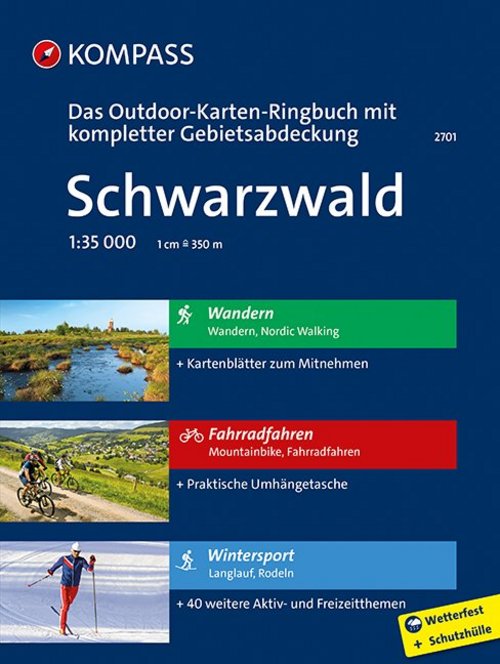 3in1: Das KOMPASS-Outdoor-Karten-Ringbuch mit großflächiger Gebietsabdeckung beinhaltet sämtliche Aktivthemen wie Wandern, Mountainbike etc. Die einzeln entnehmbaren Kartenblätter sind aus reiß- und wetterfestem Material und verbinden die Informationen von Wander-, Winter- und Fahrradkarten im Detailmaßstab von 1:35 000. Destination: - Von der Edelsteinstadt Pforzheim im Norden bis zum Hochrhein im Süden erstreckt zieht sich das beliebteste und höchste Mittelgebirge Deutschlands, der Schwarzwald. Sein höchster Gipfel ist der 1493 m hohe Feldberg im Südschwarzwald. - Seit dem 1. Januar 2014 schützt ein Nationalpark den nördlichen Schwarzwald entlang der Schwarzwaldhochstraße. - Hochschwarzwald: Feldberg, Belchen, Schauinsland und Herzogenhorn sind die höchsten Gipfel im Süden mit Fernblicken zu den Vogesen und den Schweizer Alpengipfeln. Beliebte Ausflugsziele sind der Schluchsee und der Titisee sowie die Triberger Wasserfälle. - Kulturinteressierte zieht es zu den Klöstern St. Blasien, St. Peter, St. Märgen und St Trudpert, eindrucksvoll sind die imposanten alten Schwarzwaldhöfe mit ihren typischen, tief heruntergezogenen Walmdächern und die vielen urigen Schwarzwalddörfer. - An den Westhängen des Schwarzwalds wird Wein angebaut, die 200 km lange Badische Weinstraße führt von Baden-Baden nach Weil am Rhein und in einer Schleife um Kaiserstuhl und Tuniberg. - Freiburgs Wahrzeichen ist sein Münster, zu dessen Füßen die Gassen der historischen Altstadt liegen. - Zu den bekanntesten Tälern zählen das Murgtal und das Kinzigtal. Hier findet man viele Burgen, Klöster und Schlösser.

Free shipping in Switzerland*
20% discount for 3 items
* Except for bulky good deliveries (posters)
PLAN, DISCOVER, EXPERIENCE - on the web and mobile!
Download our HKF Outdoor App!
More than 1000 Web-Sites in 47 countries! Listing of important European Web-Sites supporting your planning and booking of journeys.