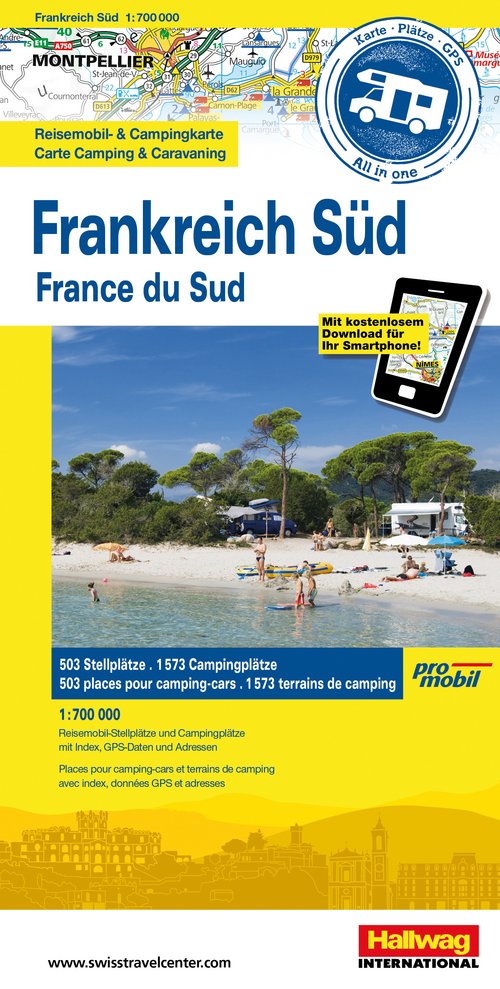 Die Reisekarten promobil/CARAVANING Reisemobilisten und Caravaner brauchen Strassenkarten. Doch wenn es um spezifische Informationen zu Reisemobil-Stellplätzen oder Campinganlangen geht, helfen viele Kartenwerke nur bedingt weiter. In den promobil / Caravaning Strassenkarten sind die wichtigsten und besten Stellplätze sowie Campinganlagen auf dem Kartenblatt deutlich gekennzeichnet und hervorgehoben. Index mit allen Stellplatz- und Campingplatz-Adressen inkl. GPS Daten. Massstab: 1:700 000 Mit Download-Code für gratis Kartenversion auf Smartphone!

Free shipping in Switzerland*
20% discount for 3 items
* Except for bulky good deliveries (posters)
With our app you can easily download selected maps and save them offline. So you can have your maps digitally on your smartphone or tablet whenever you need them.
More than 1000 Web-Sites in 47 countries! Listing of important European Web-Sites supporting your planning and booking of journeys.