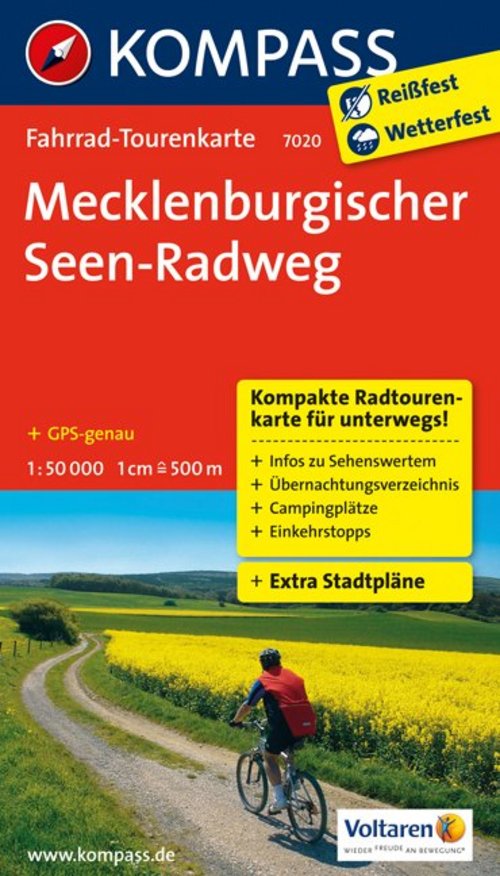 - Von der Lüneburger Heide bis zur Ostseeinsel Usedom - und das alles auf dem Rad! Der Mecklenburgische Seen Radweg macht es möglich, ist 625 km lang und führt durch eine wahre Seenorgie. - Start ist in Lüneburg und zuerst geht es entlang der Elbe bis nach Dömitz, weiter Richtung Waren an der Müritz und dann Neustrelitz. Über Neubrandenburg und die Uckermünder Heide steuert man die Insel Usedom an, Zielort ist Wolgast. Mehr als 2000 großen und kleinen Seen begegnet man auf dieser Route im Binnenland zwischen Wäldern, Wiesen und Feldern. Mit dem Müritz-Nationalpark wartet ein wahrer Schatz an Flora und Fauna und mit Usedom die Sonneninsel Deutschlands am Anfang oder Ende der Strecke.

Free shipping in Switzerland*
20% discount for 3 items
* Except for bulky good deliveries (posters)
With our app you can easily download selected maps and save them offline. So you can have your maps digitally on your smartphone or tablet whenever you need them.
More than 1000 Web-Sites in 47 countries! Listing of important European Web-Sites supporting your planning and booking of journeys.