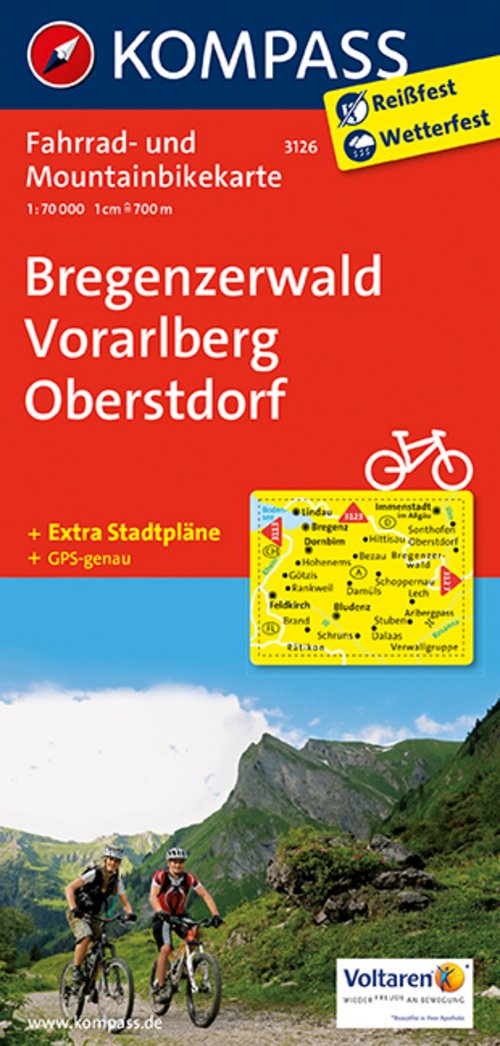 • Vom Alpenrhein über den Bregenzerwald hinüber ins Allgäu – das ist Bikevergnügen pur! Entlang der Bregenzerach, der Ill und der Iller radeln
nicht nur die freundlichen Alemannen, sondern auch viele ihrer Gäste. Solcherart trainiert wagt sich mancher auch an "Höheres", etwa an den
Hochtannbergpass, über den Arlberg oder zu den unzähligen Alpen der Region.
• Wo auch immer: Hauptsache, man hat die neue KOMPASS-Fahrrad- und Mountainbikekarte Nr. 3126 dabei. Denn mit diesem Titel gibt's kein
Verirren – im Super-Maßstab 1:70000 sind alle Straßen und Forstwege eingezeichnet, alle Hütten sichtbar und sämtliche Freizeiteinrichtungen
vermerkt.
Die neue KOMPASS Fahrradkarten-Serie überzeugt durch
• übersichtliche Kartografie im Maßstab 1:70.000
• detailgenaue Infos zu Wegbeschaffenheit, Verkehrsbelastung und Steigungsverhältnissen
• Tipps zu radfreundlichen Einkehrstationen, Bahnhöfen usw…
• handliches Format, 1mal falten – passend für den Radkartenhalter
• reiß- und wetterfestes Papier ideal für jede Witterung

Free shipping in Switzerland*
20% discount for 3 items
* Except for bulky good deliveries (posters)
PLAN, DISCOVER, EXPERIENCE - on the web and mobile!
Download our HKF Outdoor App!
More than 1000 Web-Sites in 47 countries! Listing of important European Web-Sites supporting your planning and booking of journeys.