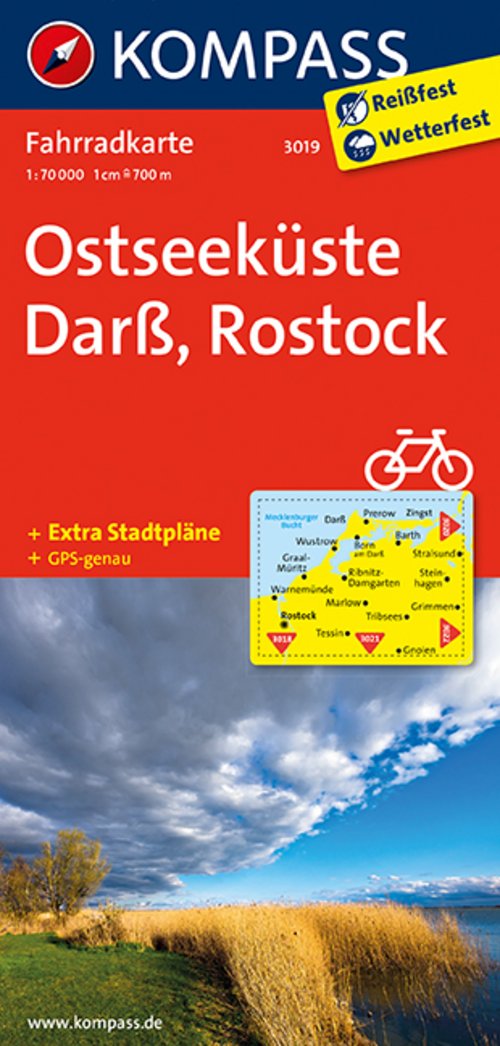 • Das vorliegende Blatt präsentiert das gesamte Gebiet zwischen Rostock, Grimmen und Zingst – die ideale Anregung für Rad-Ausflüge oder einen längeren Urlaub im Sattel!
• Rostock, die historische Hansestadt, zieht sich etwa 20 km weit am Lauf der Warnow bis zum Ufer der Ostsee entlang. Gleich östlich davon beginnt das Waldgebiet der Rostocker Heide – und damit ein Radrevier der Sonderklasse.
• Weiter ostwärts schließt sich Vorpommern an. Zwischen seiner ausgeprägten "Doppelküste", bei der vorgelagerte Inseln sogenannte Bodden vom offenen Meer trennen, und den Seen im "Hinterland" lässt es sich ebenfalls trefflich Rad fahren.
Die neue KOMPASS Fahrradkarten-Serie überzeugt durch
? übersichtliche Kartografie im Maßstab 1:70.000
? detailgenaue Infos zu Wegbeschaffenheit, Verkehrsbelastung und Steigungsverhältnissen
? Tipps zu radfreundlichen Einkehrstationen, Bahnhöfen usw…
? handliches Format, 1mal falten – passend für den Radkartenhalter
? reiß- und wetterfestes Papier ideal für jede Witterung

Free shipping in Switzerland*
20% discount for 3 items
* Except for bulky good deliveries (posters)
Postal delivery (by A-Mail in Switzerland) guaranteed until Monday, 23.12.2019: Order deadline on Tuesday, 17.12.2019 to 11.00 o'clock!
With our app you can easily download selected maps and save them offline. So you can have your maps digitally on your smartphone or tablet whenever you need them.
More than 1000 Web-Sites in 47 countries! Listing of important European Web-Sites supporting your planning and booking of journeys.