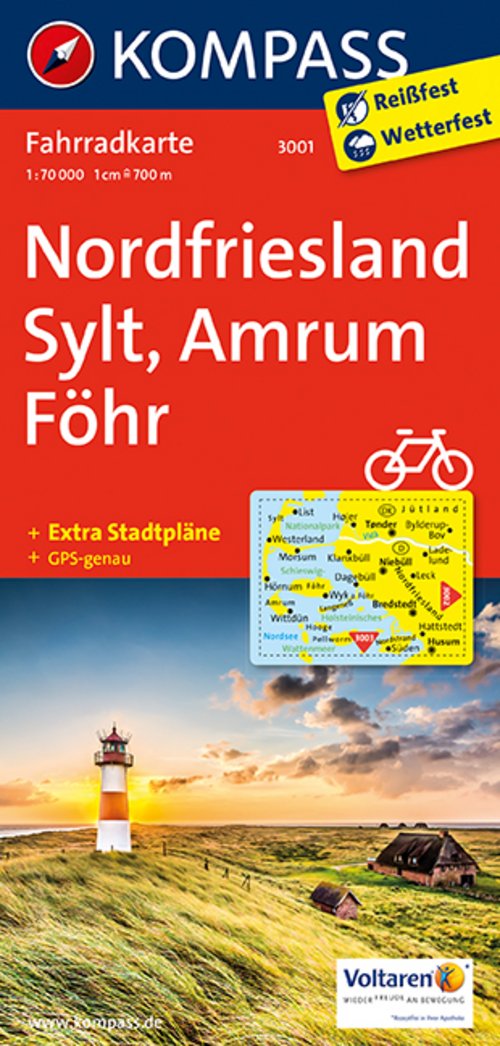 • Durch die Marsch oder Geest auf dem Rad? Aber klar, ein toller Startpunkt dafür ist die Nordseestadt Husum.
• Seit 2009 ist das Wattenmeer Weltnaturerbe und das kann man nicht nur sehen, sondern auch riechen und genießen. Über 200 km Radwege locken auf Sylt, die meisten ohne Autos. Ein schönes Stück von Nord nach Süd geht über die Trasse der stillgelegten Inselbahn – Nordseeduft inklusive. Die salzige Brise kann man sich auch auf Amrum um die Nase wehen lassen und den "weltberühmten" Leuchtturm erkunden. Die Radtour führt über 8 km von Wittdün nach Nebel und retour. "Friesische Karibik" nennt sich die Insel Föhr und bietet zum Radeln rund 200 km Fahrrad-Routen zu den schönsten Plätzen der Insel.
Die rund 40 km lange Inseltour macht Sie mit den landschaftlichen Vorzügen von Föhr bekannt. Start ist in jedem Ort möglich.
Die neue KOMPASS Fahrradkarten-Serie überzeugt durch
? übersichtliche Kartografie im Maßstab 1:70.000
? detailgenaue Infos zu Wegbeschaffenheit, Verkehrsbelastung und Steigungsverhältnissen
? Tipps zu radfreundlichen Einkehrstationen, Bahnhöfen usw…
? handliches Format, 1mal falten – passend für den Radkartenhalter
? reiß- und wetterfestes Papier ideal für jede Witterung

Free shipping in Switzerland*
20% discount for 3 items
* Except for bulky good deliveries (posters)
With our app you can easily download selected maps and save them offline. So you can have your maps digitally on your smartphone or tablet whenever you need them.
More than 1000 Web-Sites in 47 countries! Listing of important European Web-Sites supporting your planning and booking of journeys.