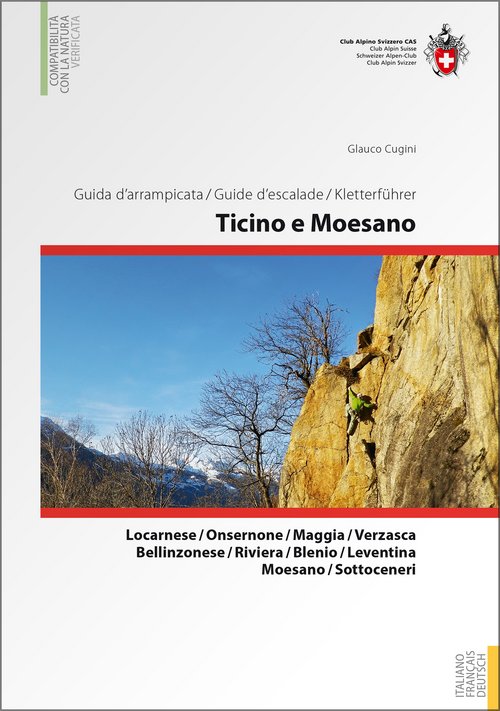 Presenta in modo dettagliato 92 siti, per un totale di 2828 vie. In questa terza edizione sono presenti 694 itinerari inediti, evidenziati in rosso per una rapida identificazione. Il volume, in tre lingue, è arricchito da 508 fotografie a colori e minuziosi disegni e mappe d'accesso. È corredato
inoltre da informazioni di carattere storico, etnografico, geologico e naturalistico.
Répertoriant en détail 92 sites, pour un total de 2828 voies. Les 694 itinéraires inédits que compte cette troisième édition sont aisément identifiables grâce à leur signalement en rouge. Ce volume trilingue est enrichi de 508 photographies en couleurs, complétées par de méticuleux dessins et cartes d'accès. Il inclut, en outre, des informations à caractère historique, ethnographique, géologique et naturaliste.
Ausführliche Beschreibungen von 92 Klettergebieten und 2828 Routen; 694 Routen wurden in dieser 3. Auflage neu aufgenommen und in den Topos rot markiert. Der dreisprachige Band enthält 508 Farbfotos, detaillierte Topos und Zustiegsskizzen. Ergänzt durch geschichtliche, ethnografische, geologische und naturkundliche Informationen.

Free shipping in Switzerland*
20% discount for 3 items
* Except for bulky good deliveries (posters)
PLAN, DISCOVER, EXPERIENCE - on the web and mobile!
Download our HKF Outdoor App!
More than 1000 Web-Sites in 47 countries! Listing of important European Web-Sites supporting your planning and booking of journeys.