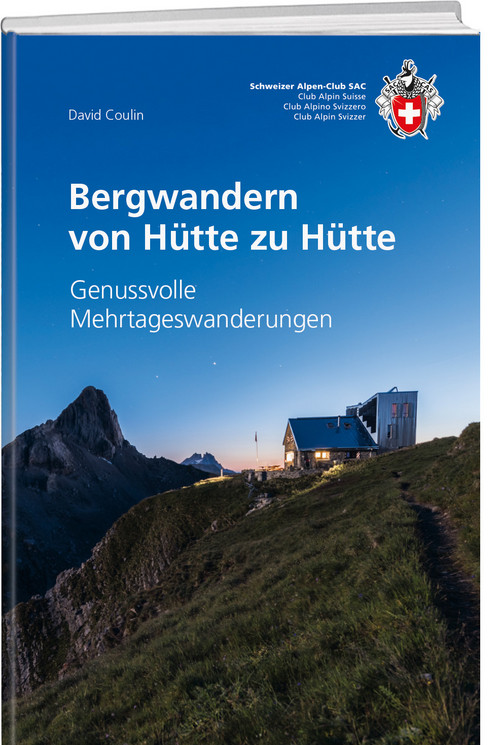 Von der Anreise über den Aufstieg, das Ausspannen, die Ausblicke von der Hüttenterrasse, ein währschaftes Znacht bis zum gemütlichen Hüttenabend - die Schweizer Berghütten bieten Kultur und Erlebnis pur für ein breites Publikum. Der SAC-Führer beschreibt 30 genussvolle, einfache und mittelschwere Bergwanderungen von Hütte zu Hütte in der Schweiz und sorgt so für ein mehrfaches Hüttenerlebnis. Alle Informationen für die Planung sind ausführlich in Text, Bild und Übersichtskarten dargestellt. Stimmungsvolle Hüttenporträts liefern den Stoff fürs Kopfkino vor der Tour. Die mehrheitlich auf drei Tage ausgelegten Wanderungen finden sich im gesamten Schweizer Alpenbogen - von der Keschhütte SAC im Bündnerland über die Alp Tschingelfeld im Berner Oberland bis zur Cabane de Susanfe CAS im Angesicht der Dents du Midi. Dies macht Bergwandern von Hütte zu Hütte zu einem unverzichtbaren Begleiter bei der Erkundung der Schweizer Berghüttenwelt.

Free shipping in Switzerland*
20% discount for 3 items
* Except for bulky good deliveries (posters)
PLAN, DISCOVER, EXPERIENCE - on the web and mobile!
Download our HKF Outdoor App!
More than 1000 Web-Sites in 47 countries! Listing of important European Web-Sites supporting your planning and booking of journeys.