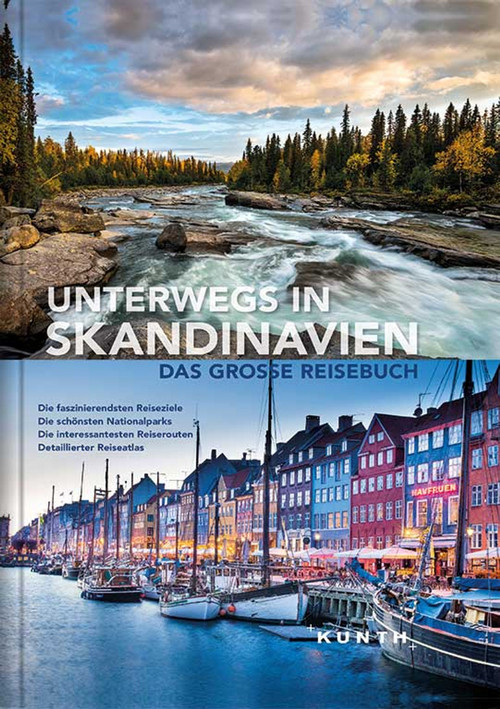 Die grandiosen Urlandschaften Skandinaviens erstrecken sich vom Weltnaturerbe Wattenmeer an der dänischen Nordseeküste bis zu den Fjorden und Wasserfällen an der norwegischen Westküste, von den Nationalparks unter der Mitternachtssonne bis zum Nordkap. Zur natürlichen Vielfalt tritt ein kultureller Reichtum in den drei demokratischen Königsreichen mit ihren großzügigen Parks, Schlösserlandschaften und den in der Jungsteinzeit errichteten Megalithbauten.
"Unterwegs in Skandinavien", die Kombination aus Bildband, Reiseführer und Atlas, bietet Orientierung und ausführliche Information und ist sowohl für die Planung als auch für die Reise selbst ein wertvoller Begleiter. Alle wichtigen Ziele und Sehenswürdigkeiten werden vorgestellt und je nach Attraktivität oder kulturellem Rand mit einem, zwei oder drei Sternen bewertet. Ein spezielles Kapitel präsentiert die schönsten Reiserouten durch das Land. Wissen zu Land und Leuten, Stadtpläen der großen Metropolen, Tourenkarten mit Piktogrammen, ein Atlas sowie brillante Farbfotos runden das Reisebuch ab.

Free shipping in Switzerland*
20% discount for 3 items
* Except for bulky good deliveries (posters)
PLAN, DISCOVER, EXPERIENCE - on the web and mobile!
Download our HKF Outdoor App!
More than 1000 Web-Sites in 47 countries! Listing of important European Web-Sites supporting your planning and booking of journeys.